Bestop 2-Piece Doors for 76-86 Jeep CJ-7 & CJ-8 Scrambler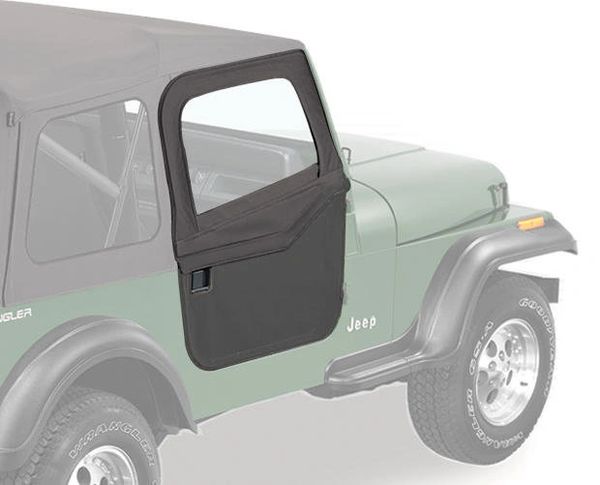 Bestop 2-Piece Doors for 76-86 Jeep CJ-7 & CJ-8 Scrambler
Bestop
2-Piece Doors 
for 76-86 Jeep CJ-7 & CJ-8 Scrambler
Superdoors include all of the quality features of Supertop 2-Piece Doors. They mount to any Jeep Wrangler or CJ-7 with full-height factory doors and a Supertop or Sunrider. With these doors and your steel doors, you have ideal door configurations for all seasons: Hardtop & hard doors for Winter; Soft top and hard doors for Spring & Fall; Soft top and Superdoors for Summer. Truly the ultimate in flexibility! '97-'06 TJs need Dome Light Switch or Clip.
2-Piece Soft Jeep doors provide protection from the elements while offering the versatility of just a lower soft door. Fits Jeep CJ-7, CJ-8 Scrambler and Wrangler.

2-Piece Door kits are the most versatile doors on the market and offer:

Passenger and driver side upper and lower complete with Rotary or Paddle Handler kits.
Compatible with Supertop®, Sunrider®, and Halftop™.
Snug fit is ensured by using adjustable lower door pins and door collars.
Velcro to fasten upper and lower doors together.
Double-bulb weather stripping surrounds the door to facilitate a good seal.
Exterior fabric color matches Bestop and factory original soft tops.

To keep your Bestop® 2-Piece Doors clean and protected, we suggest using Bestop® Fabric Care for unsurpassed appearance and long life.

INSTALLATION NOTES

Installation Difficulty:

Level 2

Intermediate

Tools Needed:
Safety Glasses
Phillips Screwdriver
1/8" Allen Wrench
7/16" Wrench
Utility Knife
13mm Wrench (TJ only!)

Installation Time:

 

1-2 hours

PARTS INCLUDED

Right Upper Door
Left Upper Door
Right Lower Door
Left Lower Door
Paddle Handles
Installation Instructions

WARRANTY

1 Year Limited Warranty.