Bestop Sailcloth Replace-a-top Soft Top with Half Door Skins & Tinted Windows for 97-06 Jeep Wrangler TJ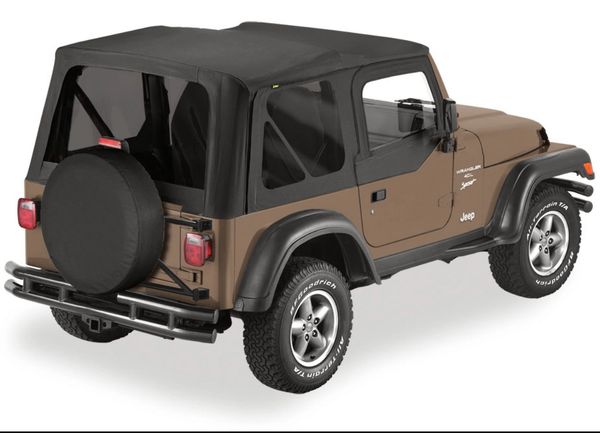 Bestop Sailcloth Replace-a-top Soft Top with Half Door Skins & Tinted Windows for 97-06 Jeep Wrangler TJ
Bestop's new Sailcloth Replace-a-top is 50% quieter than a factory denim top. The secret lies in the unique multi-ply heavy duty Sailcloth fabric. Each ply plays a different role, but together they reflect road sounds, absorb wind noise, and prevent buffeting to create a silencing effect that absolutely must be heard to be believed. In addition, the heavier grade Sailcloth fabric resists temperature-induced shrinkage, making cold-weather installations much easier. It also shows fewer waves and wrinkles than conventional tops and cleans more easily to help make your rig look really sharp! If your Jeep deserves the absolute best top on the market, or if you are tired of getting 'beat up' behind the wheel, you must experience the Sailcloth revolution!
The Replace-a-top also features factory-spec velcro, thread, webbing, and door seals. Plus oversized zippers, DOT approved windows, and a rear attachment system that lets you open your tailgate without having to open your rear window. The Replace-a-top consists of fabric only and fit only factory-original hardware.
Black Diamond is Not Factory Original Material for 97-02 Jeep Wrangler (TJ)
To keep your Bestop® Sailcloth Replace-a-top clean and protected, we suggest using Bestop® Fabric Care for unsurpassed appearance and long life.
INSTALLATION NOTES
Installation Difficulty:
Level 2
Intermediate
Installation Time:
2-3 hours
PARTS INCLUDED
Soft Top Fabric
Tinted Rear Side Windows
Tinted Rear Window
Upper Door Skins
WARRANTY
5 Year Limited Warranty