Garvin Wilderness 4 Door Hardtop Cargo Rack, 18-19 JL Jeep Wrangler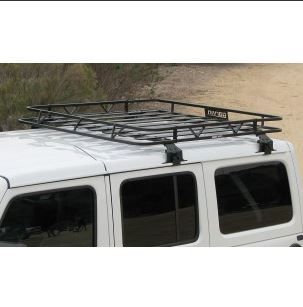 Garvin Wilderness 4 Door Hardtop Cargo Rack, 18-19 JL Jeep Wrangler
Garvin Wilderness 4 Door Hardtop Cargo Rack, 18-19 JL


Jeep Wrangler
Part Number: 20034
Details
Our new JL cargo rack is designed for the JL Hardtop, and will hold all your gear up to 200 llbs. Our redesigned rain gutter mounts offer adjustable rubber bump stops that rest against the roof. This give our racks more stability and additional weight capacity, compared to our previous mounting clamps. The cargo rack attaches easily to the JL factory rain gutter, with no drilling required for installation.
- The rack includes a ¼" think aluminum flooring kit to easily support your cargo and keep the overall weight of the rack to a minimum.
- The top of the rack sits 8.5" above the top of the factory rain gutter.
- The JL cargo rack comes complete with mounting instructions and mounting hardware.
- All of our Garvin racks go through our inhouse power coating system. This includes a two step coating process, the base coat is a pure zinc primer power coat and the top coat is a textured satin black.