Garvin Wilderness Expedition Half-Rack, 07-18 Jeep JKU Wrangler Hard-Top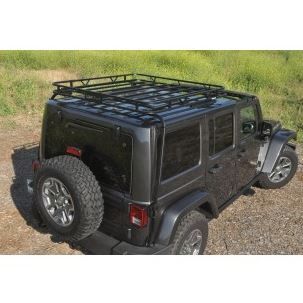 Garvin Wilderness Expedition Half-Rack, 07-18 Jeep JKU Wrangler Hard-Top
Expedition Half-Rack, 07-18 Jeep JKU Wrangler Hard-Top
Part Number: 44064
-Rack Dimensions:  54"W by 58"L by 4"H
-Allows you to remove the front hard-top sections and have no rack above.
-Mounts directly to hard-top with track mount and the back body of the Jeep.
-Will only work on 4-Door models with hard-top.
Details
The Garvin Wilderness Expedition Half-Rack was designed for the JK Wrangler 4 Doors, with factory hard-top. The Half-Rack allows you to remove the front sections of the hard-top and give you a open look above, without looking at a roof rack. The rack mounts to the hard-top, with a track mount and to the back body of the JK. The outside dimensions of rack are 54"W by 58"L by 4"H, usable space is 52.5"W by 54"L. This will fit 2007-2017 JK Wrangler Unlimited(4 door) only. Powdercoated.