JW Speaker 8700 EVO J3 LED Headlights for 07-18 Jeep Wrangler JK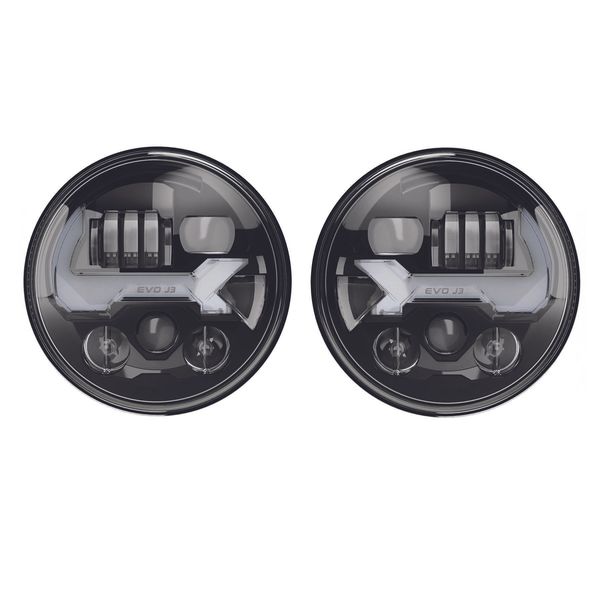 JW Speaker 8700 EVO J3 LED Headlights for 07-18 Jeep Wrangler JK
JW Speaker
8700 EVO J3 LED Headlights 
for 07-18 Jeep Wrangler JK
Just released! 
The next level of lighting technology for your Jeep Wrangler JK is here! Introducing the J.W. Speaker 8700 EVO J3 LED headlights. These high-tech lights include 5-features all packed into one unit: High Beam, Low Beam, Turn Signal, Front Position, and Daytime Running Lights (DRL). The built-in turn signals allow you to replace your current turn signals with J.W. Speaker's Trail 6 Pro or Sport lights (See recommended products). Bluetooth control from the J-Link app unlocks the J3's Off-Road Mode: Allows you to control the optics and tune the light for more width or brightness including a rock light feature; Guide Mode: Features a slow flashing amber turn signal sequence to display that you are the trail leader; Party Mode:Control your headlights when parked with the choice of 4-flashing sequences. The individual LED's and optics are carefully engineered to provide the optimum beam pattern, output, and a unique look. DualBurn high beams throw a powerful, wide and far-reaching beam of light down the road or trail. Headlight Aiming is easy when using your phone's camera. Meets proposed NHTSA NCAP 5-Star lighting guides for safety and performance.
Available in black or graphite bezels with or without SmartHeat de-icing technology. Kits come with two headlights and 2-wiring harnesses which provide a quick and easy, plug and play installation. Made in the USA! 
High-Tech: Bluetooth control, Off-Road Mode, Guide Mode, Party Mode, Heated Options available.
Stars & Stripes:Made in the USA!
Feature-Packed: Combination of High Beam, Low Beam, Turn Signal, Front Position, and Daytime Running Lights (DRL).