ORACLE Jeep 7IN HIGH POWERED LED HEADLIGHTS - NO HALO - CHROME BEZEL 5770-504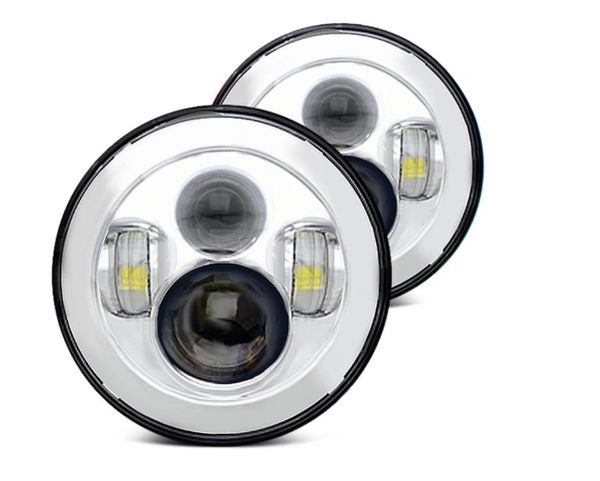 ORACLE Jeep 7IN HIGH POWERED LED HEADLIGHTS - NO HALO - CHROME BEZEL 5770-504
7" Round Chrome Projector LED Headlights (5770-504) by Oracle Lighting®, 1 Pair. Chrome housing, clear lens. Includes two H13 / H4 connectors with CANBUS protection. The Ultimate LED replacement headlight option for any vehicle with 7" Sealed Beam lamps. The rugged design is perfect for Off-Roaders, Buggies, or any Classic Wheeler! Installation is very easy with the included H4 and H13 "Plug and Play" connectors. The kit even includes a set of H13 plugs with built-in warning cancelers at no additional charge! Each set comes in full color retail-ready packaging and a 2-Year free Replacement Warranty.
Features:
Low Beam Wattage Per Light: 30W Normal/36W Max
Low Beam Lumens Per Light: 2200 Lumens/3600 Raw Lumens
High Beam Wattage Per Light: 40W Normal/48W Max
High Beam Lumens Per Light: 3600 Lumens/4800 Raw Lumens
Color Temperature Per Light: 6000K (Cool White Color)
Input Voltage of Light: 12-24V DC
Current Draw: 2.50 Amps @ 12V DC / 1.30 Amps @ 24V DC
Uses H4 or H13 Plug (Adapters Included)
Premium Performance High-Output CREE LEDs
Die-Cast Housing with Corrosion Resistant Coating
D.O.T and SAE Compliant
Heavy Duty Solid State Electronics
Hard-coated Polycarbonate Lens
Wide Beam Pattern with Sharp Cut-Off Line
Easy Plug & Play Installation
2-year Warranty
Owning a classic vehicle is absolutely different than owning a primary vehicle. A classic vehicle isn't simply an utilitarian unit to its owner, it can become a loyal friend for life and even an heirloom to handed down from generation to generation. Today you can complement your treasure with retrofit headlights featuring modern technologies that ensure improved performance and unique looks. Vivify your vintage treasure with these retrofit headlights featuring an absolutely unique design to perfectly complement your pride and joy. Built using modern technologies, these lights will deliver enhanced performance. These headlights are designed for high and low beam lights.
Oracle Lighting® has been on the cutting edge of lighting design and technology since 2001. They vigorously stepped into the industry and quickly established themselves as competitive front runners. Even though Oracle Lighting is known in the automotive world mostly for its line of Headlight Halo Kits, the company has much more bright and eye-catching lighting products to offer. It also creates excellent lighting solutions for the biggest market for accessory lighting – off-road segment. Oracle Lighting is the greatest choice for all your lighting needs.
Brand:Oracle Lighting
Part Number:5770-504
UPC:577050420145
Alternate MPN:XOFF-7HC-NA