ORACLE Lighting 5775-504 Off-Road LED Fog Lights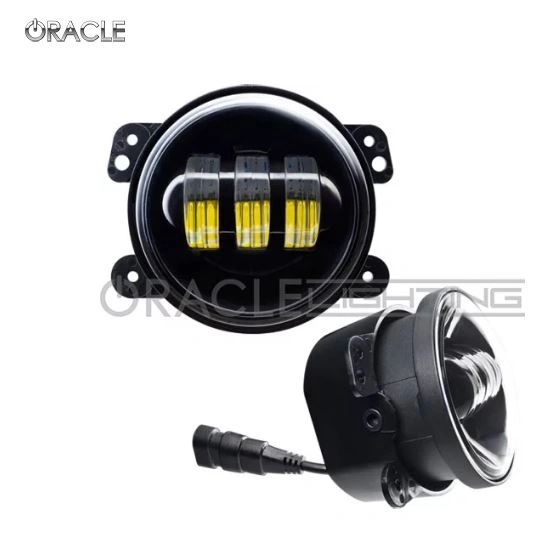 ORACLE Lighting 5775-504 Off-Road LED Fog Lights
ORACLE Lighting  Off-Road LED Fog Lights 

Select with or without halo option
Features:
Black Bezel Color
Premium ORACLE Halo Pre-installed
Premium Performance High-Output CREE LED's
Die-Cast Housing with Corrosion-Resistant Coating
Heavy Duty Solid State Electronics
Hard-coated PMMA Lens
Industry's Leading Beam Pattern
Easy Plug & Play Installation
Superior Energy Efficiency
2 Year Warranty
Input Voltage (of light): 9-36V DC
Input Voltage (of halo): 12V DC
Wattage: 30W
Raw Lumens: 3,000 lm
Width: 120.65 mm
Height: 120.65 mm
Max Depth: 88.9 mm
IP Rating: IP67
Current Draw: 2.0 Amps @ 12V DC
Fits H10/9145/9005 (Universal Adapters Also Included)
Includes:
2x High Powered LED Fog Light Replacements
2x Wiring Adapters
ORACLE SMD Halos use a special type of LED; "Surface Mount Diode". SMD is an advanced type of LED chip that can produce bright/brilliant light output while only consuming a very small amount of power. The SMD chips are installed onto a CAD designed 6 Layer PCB (Printed Circuit Board) which is very sturdy and will not break if pressured. The PCB design can easily be mounted to a headlight housing using the 3M self adhesive tape backing. ORACLE Plasma Halo™ Rings are the latest advancement in solid-state LED Lighting Technology. These new ORACLE Plasma Halos™ features Chip-On-Board (COB) design where hundreds of semiconductors make direct contact to the circuit board essentially turning the entire circuit board into the luminaire. This design makes for optimal thermal management, high packing density (no spaces), and overall high-performance light output. This new Plasma LED™ technology is not only brighter than previous LED Halo rings, but it also features very consistent light output and appears as one solid ring rather than individual LEDs. The latest version of the ORACLE ColorSHIFT Halos features High-Powered 5050 RGB 3-Chip LEDs electro-soldered with computer accuracy to a 6-Layer Rigid PCB. This new version delivers brighter and more fluid light output than the original ColorSHIFT rings. Each 5050 Surface Mounted Diode contains three 3528 LEDs (making each LED 3x brighter than the LEDs on previous rings) one Red, one Blue, and one Green diode in each LED. This allow you to make consistent colors such as "pure" white without seeing the individual colored LEDs on the ring. This type of 5050 3-Chip LED is a high-quality SMD with a 50,000 Hour Lifetime Rating that has proven to work extremely in this application during our testing.
Oracle Lighting® has been on the cutting edge of lighting design and technology since 1999. They vigorously stepped into the industry and quickly established themselves as competitive front runners. Even though Oracle Lighting is known in the automotive world mostly for its line of Headlight Halo Kits, the company has much more bright and eye-catching lighting products to offer. It also creates excellent lighting solutions for the biggest market for accessory lighting – off-road segment. Oracle Lighting is the greatest choice for all your lighting needs.
Matching Headlights available here