Oracle Lighting Underbody Rock Light LED ColorSHIFT Bluetooth Kit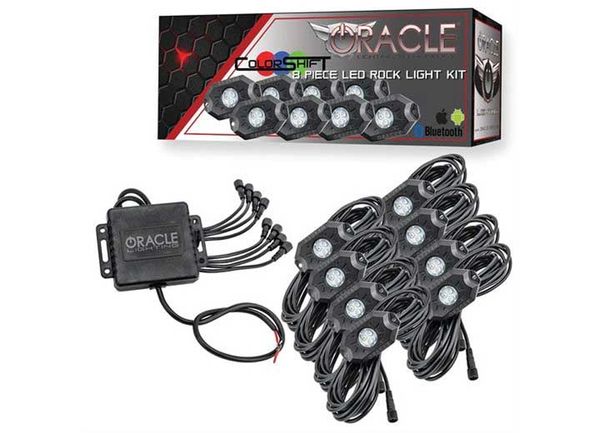 Oracle Lighting Underbody Rock Light LED ColorSHIFT Bluetooth Kit
Product Description
Oracle Lighting Bluetooth ColorSHIFT LED 8-Piece Underbody Rock Light Kit.
When hitting the trails at night, having the proper lighting is crucial for navigating the terrain. This Bluetooth ColorSHIFT LED 8-Piece Underbody Rock Light Kit from Oracle Lighting provides the extra lighting that you need to see obstacles that are right under you by focusing light down to the ground around your vehicle.
Oracle Lighting Bluetooth ColorSHIFT LED Rock Light Kit 5797-333 Features:
- 9-32V Input Voltage
- 3x 3W Cree LEDs Per Module
- 72W Total Output
- Powder-Coated Aluminum Housing
- 150 Degree Angle of Illumination
- IP68 Waterproof Rating
- 11.4 Feet of Wire Per Module
- App Works with Android or iOs
Oracle Lighting uses aluminum powder-coated housings to encase the LEDs in a protective housing with waterproof construction and heavy gauge wiring that is built to endure in any conditions. These underbody rock lights will fit just about any off-road vehicle and can be installed in your vehicle's wheel wells in front of and behind the tires. Having these lights provide more visibility of the ground around your vehicle with 150 degrees of illumination which allows you to navigate the terrain much easier. Whether it be rocks, mud, water or even sand. Each of the 8 modules contains 3 Cree LEDs that produce 3W each for a total of 72W! And with Oracle's ColorSHIFT Technology, you can select from thousands of colors and control the function of the LEDs via the Bluetooth App, which is free to download from the App store.
Includes:
- (8) Oracle ColorSHIFT Rock Lights
- (1) Bluetooth Control Module
- (16) Rubber Mounts, 8 Flush Mounts, and 8 Curved Mounts
- Installation Hardware
The Oracle Lighting products that are now available from CJ Pony Parts are truly some of the best and brightest on the market, guaranteeing that you can see much better, and people will have no problem seeing you coming. They utilize the latest in lighting technology, so you can be sure you're getting the most advanced products on the market.
Order this Oracle Lighting 5797-333 Bluetooth ColorSHIFT LED 8-Piece Underbody Rock Light Kit from CJ Pony Parts today!