Performance TC Ceramic Coating with Black Fusion Trim and Vision Blade Jeep Wrangler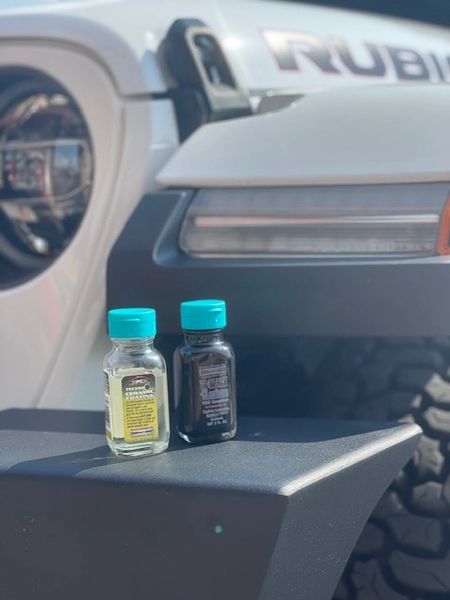 Performance TC Ceramic Coating with Black Fusion Trim and Vision Blade Jeep Wrangler
Performance TC Ceramic Coating with Black Fusion Trim and Vision Blade Jeep Wrangler
Finally the perfect at home Ceramic Coating Kit for your Jeep!
Includes:
*Performance TC Ceramic Coating
*Performance TC Black Fusion Trim Restorer
*Vision Blade Windshield Protector
*Application Sponge
Performance TC Coatings forms a chemical bond to the applied surface, which become both chemically and wear resistant. These chemical bonds are hard to break once cured and give outstanding performance characteristics. The liquid ceramic coating will provide years of protection against all types of environmental attacks. The ceramic resin acts like an additional layer of clear coat which gives increased depth of gloss and enhanced color. Ceramic coating creates an almost non-stick layer which reduces the adhesion of dirt, grime and bugs. The cured ceramic coating is extremely hydrophobic, chemical & scratch resistant.
Pair the coating with Black Fusion and you have the perfect Jeep combo for restoration especially on faded trim! Restores faded plastic & protects against acid rain, sun damage, chalking & detergents. May also be used on car carrier trim, RV trim, truck beds, bumpers & other plastic, black & grey surfaces that are exposed to fading.
CERAMIC COATING DIRECTIONS: SHAKE WELL BEFORE USE. Vehicle to be treated must be washed, properly prepped, and completely dry before application. Surfaces must be free of defects and contamination for optimum performance and appearance. Apply enough product to the supplied applicator for one panel coverage. Using a back and forth motion, apply the product liberally to the whole panel, including decals, trim, plastic, and/or glass. Allow the product to flash on the surface until the excess product begins to bead up. Gently wipe off the excess with a new, premium microfiber towel. A second microfiber towel may be needed to ensure no streaks or high spots are left behind. Avoid excess wiping/buffing. Repeat for each panel of the vehicle. Do not allow the vehicle to enter the outside elements for at least 30 minutes.
Application Video Available Here
BLACK FUSION DIRECTIONS: Apply to is to be CLEAN & DRY with no water spots. Either tape off painted or glass surfaces near to the application area or keep a wet microfiber close by to clean up any excess. Make sure to wipe immediately.