Rhino-Rack SG59 Gutter-Mount Vortex 2-Bar Roof Rack for 07-22 Wrangler JL, JK Unlimited, & 20-22 Gladiator JT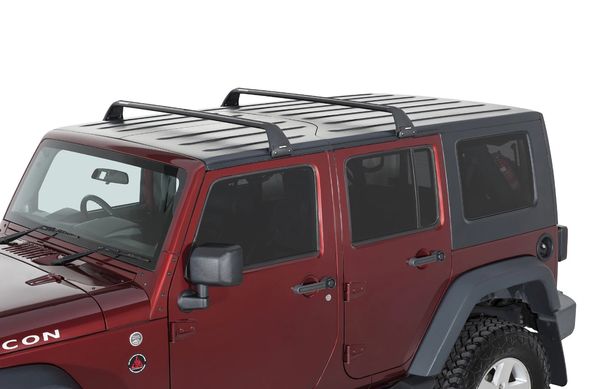 Rhino-Rack SG59 Gutter-Mount Vortex 2-Bar Roof Rack for 07-22 Wrangler JL, JK Unlimited, & 20-22 Gladiator JT
Rhino-Rack
SG59 
Gutter-Mount Vortex 2-Bar Roof Rack 
for 07-22 Wrangler JL, JK Unlimited, & 20-22 Gladiator JT
Roof racks come in handy when planning a vacation or a day on the water but maybe you just don't have the room to fit your Jeep Wrangler Unlimited JK, JL, or Gladiator JT in your garage with a bulky roof rack on it. Enter the 
Vortex SG Roof Rack System
 from Rhino Rack. This rack offers a non-permeant solution to your roof rack needs without drilling into your Jeep's hardtop. These mounts simply snap into your hardtops gutters then simply connect the bars and you have a strong durable roof rack at your disposal that can be taken apart when not in use.
Versatility: This rack system is compatible with a range of roof rack accessories giving you the option to carry things from luggage to bike to kayaks making sure you are covered to bring what you need on your trip. When you no longer need the rack simply remove the bars, take off the mounts and you will no longer have a roof rack until you need it again. 
Stylish: Mounts directly into your gutters giving you a flush look with no overhang. VGS strips are provided to help reduce wind noise while you are driving. 
Weight Limit: This rack has a weight limit of up to 88lbs.
INSTALLATION NOTES
Installation Difficulty:
Level 2
Intermediate
Installation Time:
Less than an hour
PARTS INCLUDED
Vortex Bar (2)
Gutter Mount Assembly
Hardware & Components (4)
Installation Instructions