Smittybilt 97495 XRC-9.5 Gen2 Winch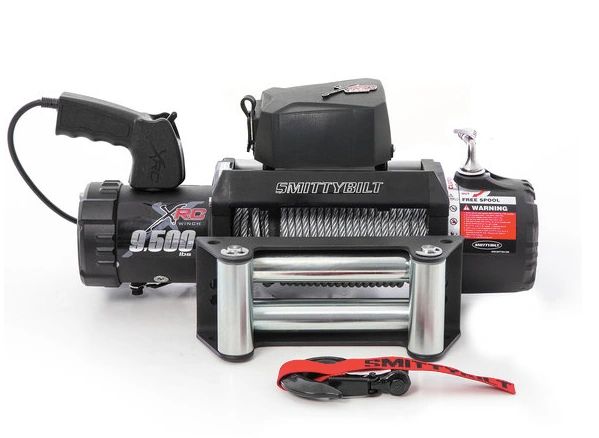 Smittybilt 97495 XRC-9.5 Gen2 Winch
When you absolutely, positively need your winch in a recovery situation — you expect the thing to be flawless. And Smittybilt's XRC winch series has been thoroughly updated with heavy-duty features to enhance performance and durability just so it can be that good for you. Every time. Every XRC winch features a Series Wound 6.6 HP motor and 3-Stage Planetary Gear System with revised gear ratios for increased pulling power and lightning-fast line speeds. Each winch is also finished in a rugged UV-Resistant matte black coating, with stainless steel hardware and oversized aluminum crossbars, to provide you with a great looking system that will last you a lifetime. Every XRC winch includes a heavy duty controller, four-way roller fairlead, forged steel tow hook, and a redesigned solenoid box that can be mounted in 3 different positions for maximum versatility. If steel cables are not your thing, then look to the XRC Comp Series for the ultimate in lightweight synthetic cable pulling power and performance. A Smittybilt XRC winch is a complete recovery system with the muscle and reliability to bail you out of any situation. Limited lifetime warranty.
Built For Recovery: Smittybilt XRC Winches utilize a Series Wound 6.6 HP Motor in addition to a cable line made from tough steel wire rope. The XRC Comp series features a durable synthetic rope that give it lightweight pulling strength.
High-Quality Components: Winch includes a forged steel tow hook, four-way roller fairlead, heavy-duty winch controller and a versatile solenoid box that can be mounted in multiple positions with sliding ring gear mounting clutch.
Superior, Eye Catching Design: Smittybilt XRC Winches are constructed with stainless steel hardware and feature oversized aluminum crossbars. They have a 10 by 4.5-inch bolt pattern, IP67 waterproof rating and are also covered with a textured, matte black coating that can stand up to the elements and resist damage from UV rays.
INSTALLATION NOTES
Installation Difficulty:
Level 2
Intermediate
1. Winch mounting plate not included.
Installation Time:
1-2 hours
PARTS INCLUDED
Winch
Winch Remote
Hardware 
WARRANTY
Limited Lifetime Warranty.