TACTIK Circle 8 Classic Wheel in 17x9 with 4.75in Backspace for 07-21 Jeep Wrangler JK, JL and Gladiator JT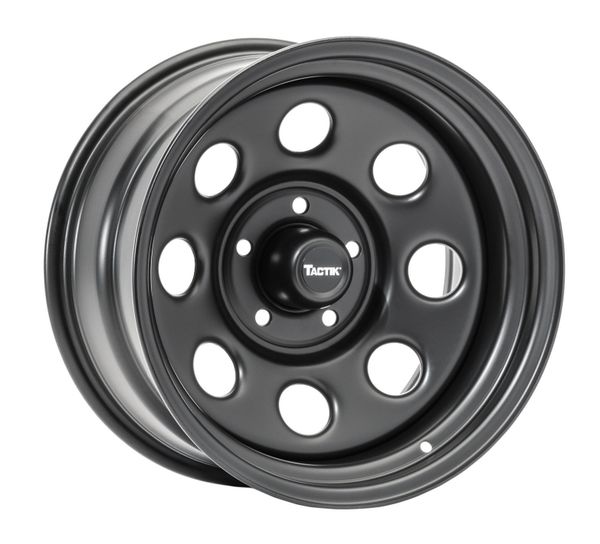 TACTIK Circle 8 Classic Wheel in 17x9 with 4.75in Backspace for 07-21 Jeep Wrangler JK, JL and Gladiator JT
TACTIK
Circle 8 Classic Wheel in 17x9 with 4.75in Backspace 
for 07-21 Jeep Wrangler JK, JL and Gladiator JT
Classic steel reliability with eye-catching good looks and a super popular black finish. That is the TACTIK Circle 8 Classic Wheel. A wheel as durable as it is affordable, and designed to stand up to the hazards of today's driving conditions, both on and off road. For this TACTIK steel wheel doesn't just go into the world hoping to perform, it has the tools and build quality knowing it will. The TACTIK Circle 8 Classic Steel Wheel is e-coated to prevent corrosion and then powder coated in a satin finish for superior durability. In fact, the wheel has been SAE J 2530 tested – meaning it has undergone a rigorous performance evaluation on things like cornering, fatigue and impact strength. All so know you are getting a high quality, strong and beautiful wheel designed to last. Wheels are sold individually and include a black TACTIK logo center cap. Lug nuts sold separately.

Beautiful Classic Styling: The TACTIK Circle 8 Steel wheel features a 'tried-and-true' classic design finished off in a satin black power coat that has proven popular throughout the years.

Steel Reliability: Steel wheels have long been a popular choice with both the daily driver and off road crowd. That's because steel wheels provide the ultimate in strength and durability over alloy. Plus, if the wheel somehow gets dinged, you can simply hammer out the imperfection and be on your way.

Industry Tested: This Circle 8 Classic Wheel has undergone thorough SAE J 2530 Industry Standard testing in categories like cornering, fatigue and impact strength in order to supply the highest possible wheel quality.