Jeep Wrangler A-Pillar Pod Light Kit with color changing plates and mounts, 3x3" W fits Jeep JL/JT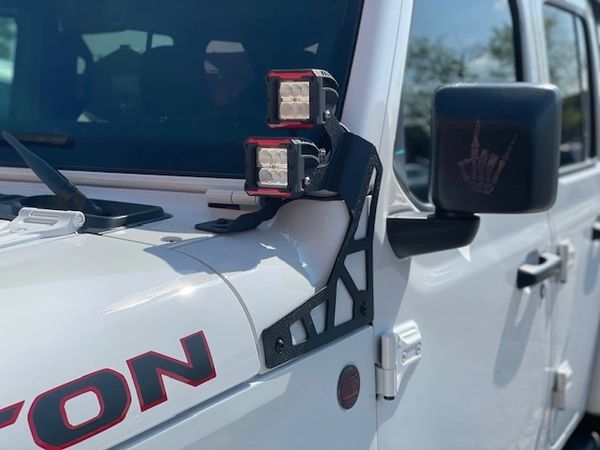 Jeep Wrangler A-Pillar Pod Light Kit with color changing plates and mounts, 3x3" W fits Jeep JL/JT
A-Pillar Pod Light Kit with color changing plates and mounts, 3x3"W Flood Beam
Jeep Wrangler JL & Jeep Gladiator JT

Part # podkitJL
UPC 195893426072


Add a pop of color and accent your jeep with this set of pod lights. Includes two 3x3 pod lights with color changing face plates. Includes blue, black, yellow, and red. Harness, switch, and mounts included.
Fits 2018-Current Jeep Wrangler JL & 2020-Current Jeep Gladiator
Amp Draw 1.1 @ 12v 0.5@24v
with duel female Deutsch Connector and switch
Comes with, black, blue, red, and yellow changeable face plates
1 pair of lights (2 each)
Reverse voltage protection
High UV resistant polyester power coated black aluminum housing
Powder coated u-bracket & stainless steel hardware
Vibration Tested to SAE J575 Standard
Corrosion protection tested to ATSM B117 standard
 A pillar light pod mount brackets are easy to install and are amazingly sturdy. They are made from laser cut and CNC bent 3/16 inch steel. 
Features:
Hold 4 LED Pod Lights
Easy To Install
No Drilling 
Textured Powder Coat