UnderCover Truck Bed Covers Nighthawk Light Brow 07-17 Jeep Wrangler NH1001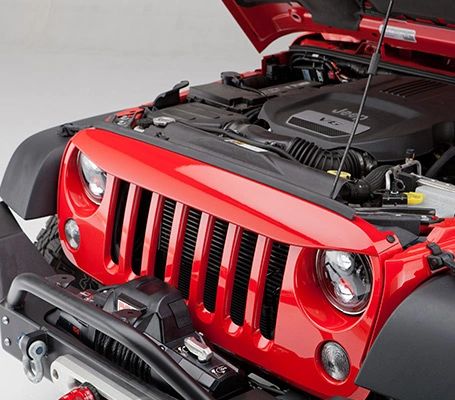 UnderCover Truck Bed Covers Nighthawk Light Brow 07-17 Jeep Wrangler NH1001
Undercover Night Hawk Grille Brow
07-17 Jeep Wrangler

Part #: UNDNH1001 GRILLE MOLDING
*Please select color when ordering*
Available in: Black unpainted, black, granite crystal, bright white, billet silver, bright silver, flame res, firecracker red, tank, anvil, copper brown, dune, amped, hydro blue, cherry.

Description:
07-17 JEEP JK NIGHTHAWK LIGHTBROW MOLDED
NightHawk Light Brow dramatically changes the attitude of your factory Jeep® grille. Painted to match from our state of the art paint facility, the brow is ready for install fresh out of the box: no added expense of taking it to the shop. Installation is simple. In less than 5 minutes with no drilling required, your Light Brow can be mounted on your factory grille, instantly enhancing your Jeep's® front end styling. Factory painted to match your Jeep. Built from high density ABS, NightHawk is trail-tested and road proven. Sleek, low profile, and downright sexy: go from stock to not, with the NightHawk Light Brow by UnderCover.