Vision X Jeep JK LED Headlights - Chrome Vortex LED Headlights Jeep Wrangler JK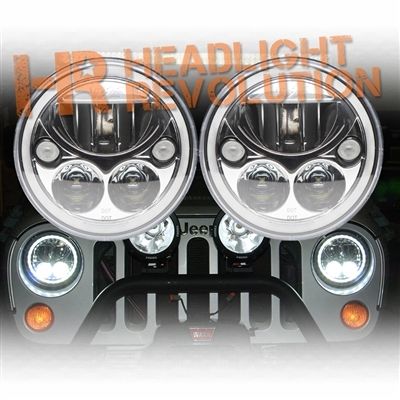 Vision X Jeep JK LED Headlights - Chrome Vortex LED Headlights Jeep Wrangler JK
DESCRIPTION
Available in Chrome and Black Bezel
LED Color: 6,000K White Second Generation
SEE WHY VISION X VORTEX IS THE BEST JEEP WRANGLER HEADLIGHT OPTION HERE!
WHAT'S INCLUDED:
X2, Vision X 7" Round LED Headlight Housings with built-in Anti-Flicker Technology
NORMALLY OVER $800!
Jeep Wrangler JK LED Headlight Kit Vision X XIL-7RD with halos.
4,210 Raw Lumens Each, 2,947 Effective Lumens Each, 
DOT Approved 7" Round LED Headlight Jeep Kit With Chrome Finish
This headlight will replace any sealed beam 7" round (or sometimes called 6.75") style lamp housing. Each LED light is a dual beam system with both high beam and low beam.
This light will replace any 7" Round sealed beam H6024 style light.
H4/H13 adapter not included for the TJ models
Replacement headlights will fit: 2007-2016 Jeep Wrangler
Each LED headlight is a dual beam system with both high beam and low beam.
DOT Certified Driving Light
Take your Vision X Vortex LED Headlight anywhere without worrying. Every part of the headlight has been approved and certified by the DOT in all states. There's also E-MARK and ADR models available, just in case you from another corner of the world.
LED Halo Ring
The Vortex LED Headlight features a bright halo ring that can be active without having the low beam or high beams on. Having a 7" halo on the front of your vehicle will not only turn heads, but also provide you with the optimal lighting options for the right conditions.
3 Different Modes
Equipped with a Halo LED Ring, the Vortex LED Headlight also comes packed with an extremely powerful high-beam, and a wide spread low beam. With such diversity in beam pattern, you can rest assured that you'll have to right lighting for the right scenario at any given time.
This kit contains: 2 Vision X XIL-7RD headlights with built in halos, and set of Vision X brand anti-flicker harnesses.
(Discounted price when bought as this kit.)
Bulb Type:
Low: 13W LED
High: 2x 10W LEDs
Raw Lumens: 4,210
Effective Lumens: 2,947
OEM Cross: H6017 H6024
Features
Hybrid Aluminum-Polycarbonate Housing
Durable UV Resistant Polycarbonate Lens
PAR 56/ H6017 / H6024 Direct Replacement
3 Modes (Low, High, Halo) >Universal Applications
DOT Certified
IP-68 Rated