REBELLION™ XD ADJUSTABLE BALL MOUNT 45949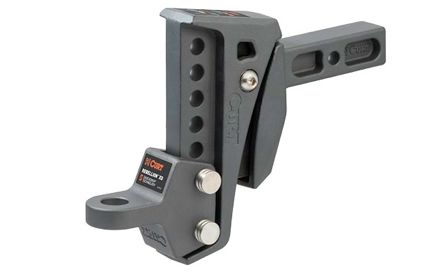 REBELLION™ XD ADJUSTABLE BALL MOUNT 45949
REBELLION™ XD ADJUSTABLE BALL MOUNT 
45949
INNOVATION WITH PURPOSE
 For those who tow, it's important to us to provide you with the best experience possible. Our team of visionary in-house engineers set out to design the next-generation towing experience that delivers enhanced comfort, increased control and unmatched confidence for the road ahead.
Get ready to feel the difference with CURT's new, innovative ShockDrop™ technology.
WHAT IS SHOCKDROP™ TECHNOLOGY?
ShockDrop™ technology is an adaptive, dynamic towing system that is engineered to suppress vibrations, rattling, strain on the vehicle and even the tendency for sway in your trailer. It does this using an integrated, flexible polyurethane isolator.
Compared to many other cushion hitch options that feature complex external mechanics like airbags or bearing to operate, ours features a simplified, internal design that virtually eliminates the chances of mechanical malfunction on the road, all while protecting the shock-absorbing isolator from the elements. 
ShockDrop™ provides greater benefits for you, your passengers and your towing system.
THREE REASONS TO UPGRADE YOUR TOWING EXPERIENCE WITH SHOCKDROP™ TECHNOLOGY
IMPROVE YOUR COMFORT.
A traditional metal-on-metal towing connection directly transfers every bump, pothole and texture in the road into vibrations, rattling and noise inside your vehicle. ShockDrop™ combats these annoyances at the source to maximize driver and passenger comfort. The cushioned isolator absorbs vibrations to promote a smooth, more enjoyable journey.
TAKE BACK CONTROL.
The cushioned isolator not only blocks annoying road noise, but it also dynamically reacts to jerking and jarring, limiting their effects on the vehicle and trailer and giving the driver increased control on the road. This also improves control in events of sudden braking, and even helps restrict the tendency for undesirable trailer sway.
FEEL THE CONFIDENCE.
ShockDrop™ technology helps preserve your vehicle's systems, including the brakes and suspension, while featuring a durable design for long-lasting use. Unlike a cushion hitch with an airbag or bearings that are subject to excessive wear, ShockDrop™ is virtually maintenance-free and is tested for thousands of cycles for absolute confidence in your towing equipment.