Aries Tube Doors 18-C Jeep WRANGLER JL 2500200/1500200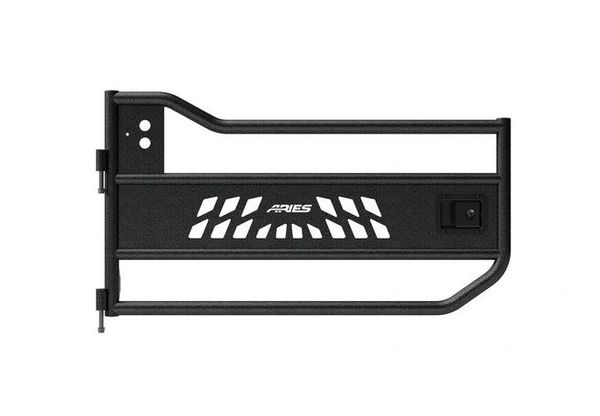 Aries Tube Doors 18-C Jeep WRANGLER JL 2500200/1500200
Aries Tube Doors 18-C WRANGLER JL (Will not work with power mirrors)
Turn your Jeep Wrangler JL or Jeep Gladiator into the ultimate offroad ride with ARIES Jeep tube doors. These easy-to-install aftermarket doors open up the Jeep JL / Gladiator and connect you and your crew with the trail unlike any other aftermarket accessory. They feature a highly weather-resistant construction, a lightweight design and an aggressive aftermarket look.
Whether you're headed offroad or you simply want the full experience of the top down and the wind in your hair, ARIES tube doors for Jeep Wrangler and Jeep Gladiator place you right in the action. Their open-concept design and unique cutout pattern instantly transform the Jeep into an offroad-ready ride and allow you to experience the trail, the summer breeze and the rev of the engine like never before.
Installation of ARIES Jeep Wrangler JL / Jeep Gladiator tube doors couldn't be easier. They are made vehicle-specific for each generation of Jeep and are designed to replace the factory doors, quickly swapping out for the offroad season. The tube doors mount using the pre-existing hinge points on the Jeep and use the existing door catch to latch shut.
Each ARIES Jeep tube door is equipped with a swing-out strap and pre-drilled holes for mounting a mirror. The swing-out straps fasten to the existing hinge points on the Jeep door sill and keep the doors from swinging out too far. To ensure that your Jeep Wrangler or Jeep Gladiator stays safe and functional on the road, the front set of doors comes with pre-drilled holes, providing a reliable mounting point for the factory side mirrors (not compatible with power mirrors).
Part of offroading or any Jeep adventure is immersion into the outdoor elements. As such, we construct our Jeep tube doors from hardened T6 aluminum alloy. The advantage of aluminum is that the doors remain rust-free in spite of direct exposure to rain, mud, sunlight and more. Aluminum is also strong and very lightweight to keep your Jeep optimized for offroading.
To ensure maximum corrosion resistance, ARIES Jeep tube doors are covered in a highly durable textured black powder coat finish. This powder coat is not only resilient to moisture and UV damage, but it also provides a unique benefit. With a heavily textured surface, it is able hide minor scuffs, scratches and even grime that accumulate on the offroad trail, keeping your Jeep looking clean and roadworthy.
This particular set of ARIES Jeep tube doors is designed to fit the Jeep Wrangler JL and Jeep Gladiator. It includes two front doors, one for the driver side and one for the passenger side. Before purchasing ARIES Jeep tube doors, verify fitment with your vehicle and check with your local and state laws.
PRODUCT SPECIFICATIONS
Shipping Weight

29.000

Material

Aluminum

Finish

TEXTURED BLACK POWDER COAT

Warranty

Limited Lifetime Warranty (Five-Year Finish, One-Year Parts)