Fairchild Industries KD4032 Fairchild 6" Fender Flare Kit for 97-06 Jeep Wrangler TJ KD4032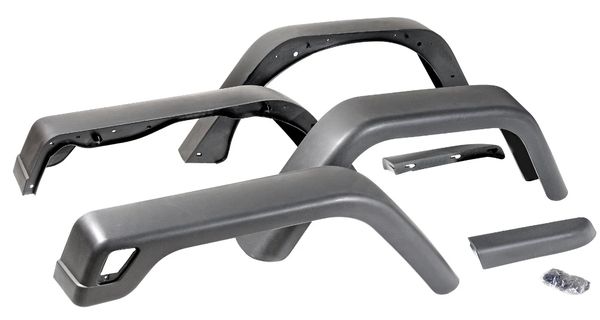 Fairchild Industries KD4032 Fairchild 6" Fender Flare Kit for 97-06 Jeep Wrangler TJ KD4032
Fairchild Industries
KD4032 
Fairchild 6" Fender Flare Kit 
for 97-06 Jeep Wrangler TJ
Made from lightly textured thermo plastic like the original but UV treated to prevent "chalking". Adds and additional 2.75 inches of tire coverage over the stock 3.25 inch wide flares.* Flares maintain the stock look with no drilling required. Front "dog leg" fender extensions are included.
INSTALLATION NOTES
Installation Difficulty:
Level 2
Intermediate
Installation Time:
1-2 hours
PARTS INCLUDED
Left Front Fender Flare
Right Front Fender Flare
Left Fender Flare Extension
Right Fender Flare Extension
Left Rear Fender Flare
Right Rear Fender Flare
Mounting Hardware
WARRANTY
12 Month/12,000 Mile Limited Warranty.