Hyline Windshield Light Bar Mount 97-06 Jeep TJ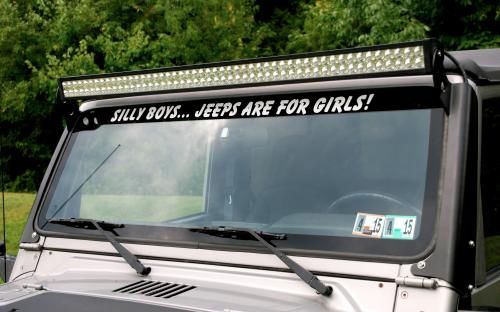 Hyline Windshield Light Bar Mount 97-06 Jeep TJ
Hyline Windshield Light Bar Mount
Dimensions:
23 in × 16 in × 8 in
Fits:
All TJ Model Years 1997 - 2006
TJ LED Light Bar Mount
Hyline Offroad TJ Light Bar Mounts allow you to easily install a 50" LED Light Bar above your windshield. The Light Bar Mounts are manufactured using 3/16" thick steel, laser cut and formed using a CNC precision press brake. They are designed as one piece construction with no weld seams for a smooth finished cosmetic look. No drilling or other modification is necessary for installation, they simply bolt to the windshield mounts using provided stainless steel fasteners. Precision cut Rubber Gasket liners are included with the light bar mounts to protect your vehicles paint from scuffing. All brackets are finished complete with E-Coating & Black Fine Texture Powder Coating for superb corrosion resistance.
*** PLEASE NOTE: The actual dimension between our mounting brackets is 52". A true 50" LED light bar is 50" of LED's.....NOT the overall size. Make sure the light bar you order measures 52" overall, from end housing to end housing.
Proudly Made 100% In USA.
Tools Required:
Ratchet, T40 Torx & 3/16" Hex Wrench
Parts Included:
Driver & Passenger Side Light Bar Mount and Rubber Gasket Liners