Superchips Jeep Flashcal for JT Gladiator - 3571-JT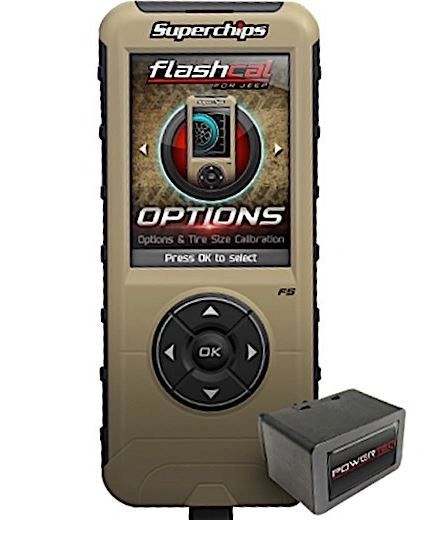 Superchips Jeep Flashcal for JT Gladiator - 3571-JT
SAVES FACTORY SETTING AND RETURNS EASILY TO STOCK
Now Shipping!
It's here! The Flashcal for Jeep Gladiator is first, and BEST, to market. Gladiator owners need the tire and gear options Flashcal provides. Enjoy seamless functionality to accommodate the lift, suspension, and tires you've installed on your JT. Superchips has loaded the Flashpaq PN 3571-JT with the most sought after features. Configure your JL to review all product features. Be sure to pay close attention to your install guide. The team at Superchips spells our how to install your Flashcal to take advantage of tire size, gear ratio, TPMS adjust and more. Enjoy the ride with the Flashcal for JT.
ey Product Features
Corrects speedometer for tire upgrades between 26- 40"

Speedometer recalibration for gear /axle swaps up to 5.38

Transfer case gear low: 2.72 - 5.00

Sway bar disconnect in 2HI (up to 25 MPH)

Daytime running light options

One touch lane change on/off

TPMS On/Off

Fog light droput on/off

Daytime running light dropout on/off

Daytime running light location - high beam, low beam, turn signal, fog lights, Eurpean/fender lights, none

Auto park on/off

Reads and clears diagnostic trouble codes

Internet updateable
* Results and feature set may vary based on vehicle make, model, and aftermarket upgrades. Read all instructions before installation and/or operation of this product use.
* This product has not been tested or validated on right hand drive Jeep applications or imported (non-American VIN based)Jeep applications. They are not supported by this product.
Color Screen
Speedometer Correction
Tire Size - 26'' - 40^
Axle Gear Ratio - 2.73 - 5.38
T-Case Gear Ratio - 2.72 - 5.00
Sway Bar Disable - Available in 2HI, less that 25 MPH
Daytime Running Lights Adjust
Data Acquisition
DTC Read & Clear
Internet Updateable
TPMS On/Off Available (Download Required) Adjust feature only available on TrailDash/TD2