JKS Manufacturing 9800 Telescoping Front Track Bar for 87-95 Jeep Wrangler YJ with 0-6" Lift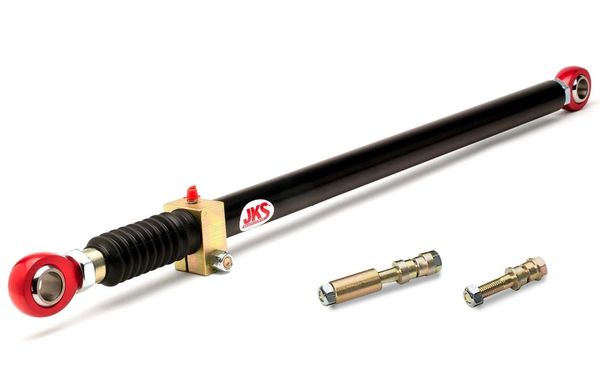 JKS Manufacturing 9800 Telescoping Front Track Bar for 87-95 Jeep Wrangler YJ with 0-6" Lift
JKS Manufacturing
9800 
Telescoping Front Track Bar 
for 87-95 Jeep Wrangler YJ with 0-6" Lift
The JKS Telescoping Trackbar provides 31% more suspension articulation off-road without sacrificing the stability necessary for safe on-road operation. In fact, the amount of articulation prohibited by the OE front trackbar is comparable to the amount of articulation gained with JKS swaybar disconnects!
The JKS Telescoping Trackbar is a direct replacement for the original and features a locking, slip-shaft mechanism that is greasable for smooth, silent operation. When unlocked, the trackbar becomes transparent to the vehicle, allowing unrestricted suspension travel and maximum off-road performance. To prevent binding, high quality, Teflon-lined heim joints attach the trackbar to the axle and chassis.
The relocation brackets supplied with most lift kits change the angle of the trackbar in relation to the steering drag link. The alignment of these components is critical to prevent bump steer – a condition that changes the direction of the front wheels in response to suspension movement, as opposed to steering input. Upgrade to a JKS Telescoping Trackbar instead for uncompromised performance on-road and off.
Product Features
The front trackbar, or panhard rod, provides stability and safety on leaf sprung Wrangler models at the unfortunate cost of reduced suspension travel. Removal of the front trackbar dramatically improves off-road performance and suspension articulation. However, the additional forces absorbed by the leaf springs and bushings can quickly lead to premature failure and unsafe operating conditions.

Provides 31% more suspension travel than solid trackbar for improved off-road performance

Retains stability of trackbar on-road for proper handling and safe highway operation

Greasable slip-shaft design ensures smooth, silent operation

Prevents undue stress and premature failure of related suspension components

Eliminates the need for trackbar relocation brackets that often induce bump steer

Zinc plated and powder coated for excellent protection from corrosion and debris

INSTALLATION NOTES

Installation Difficulty:

Level 2

Intermediate

Installation Time:

 

Less than an hour

PARTS INCLUDED

Track Bar
Installation Hardware

WARRANTY

Limited Lifetime Warranty.