Lange Originals 014-210 Power Hoist-a-Top for 07-18 Jeep Wrangler JK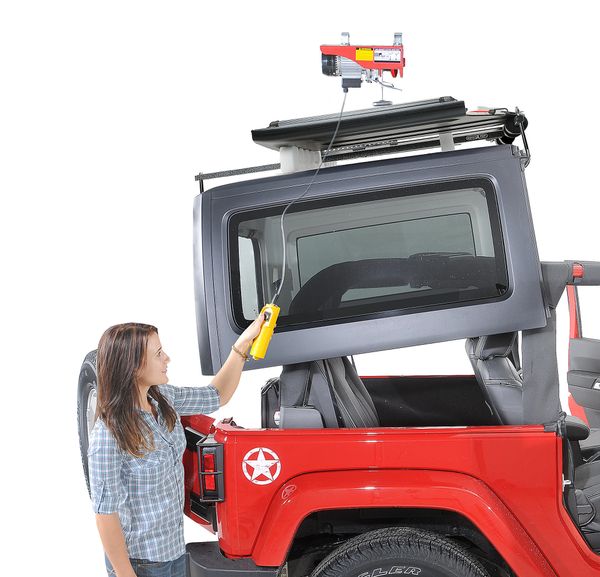 Lange Originals 014-210 Power Hoist-a-Top for 07-18 Jeep Wrangler JK
Lange Originals 014-210 Power Hoist-a-Top for 07-18 Jeep Wrangler JK

The Jeep Hoist-A-Top is a must have for Wrangler owners. The new Hoist-A-Top makes removing and storing a hardtop an easy, one -person job. The Hoist-A-Top supports any top with a well-balanced steel frame using the new Balance Blade™. Rubber coated hooks and foam-covered hardware will protect your top's finish. The Lange Hoist-A-Top uses an incredibly strong steel powder coated frame that quickly attaches to your vehicle top without any drilling. The rear Smart Hook™ allows you to lift and store your hardtop with the rear window closed which will improve the balance as well as take up less storage space. With the push of a button a small electric winch mounted to the ceiling will lift your top to the ceiling in your garage or carport for convenient, out-of-the-way storage.

Recommended minimum 8 feet for side wall mount or minimum10 feet for ceiling mount.
he new Hoist-a-Top Includes:
Heavy Duty powder coated finish for durability and quality.
Snap-in-button release design for installation ease.
New Balance Blade™ makes balancing the top easier and safer.
Rear hook that allows the back window to stay closed, improving balance, ease of use, and smaller storage footprint.
Freedom Top storage system that cradles and supports top pieces safely.
Additional adaptors for aftermarket tops.
INSTALLATION NOTES
Installation Difficulty:
Level 3
Advanced
Please Note:
 Minor drilling of your garage ceiling is required. No drilling of your Jeep is needed. 
Tools Needed
:
Electric Drill with 3/8" Bit
Phillips Screw Driver
Adjustable Wrench
Measuring Tape
Pencil
Installation Time:
1-2 hours
PARTS INCLUDED
Power Unit Assembly
Hoist Frame T Section
Two Frame Arms
Center Frame Arm with Balance Slide
Two ½" Eye Bolts with lag screw ends
Three End Caps
Two Rubber Coated J Hooks
Rubber Coated L Hook
Two Foam Top Protectors
3/8" Eye Bolt
WARRANTY
1 Year Limited Warranty.