Lange Originals 014-910Power Hoist-a-Top with remote option for 18-21 Jeep Wrangler JL 4-Door Unlimited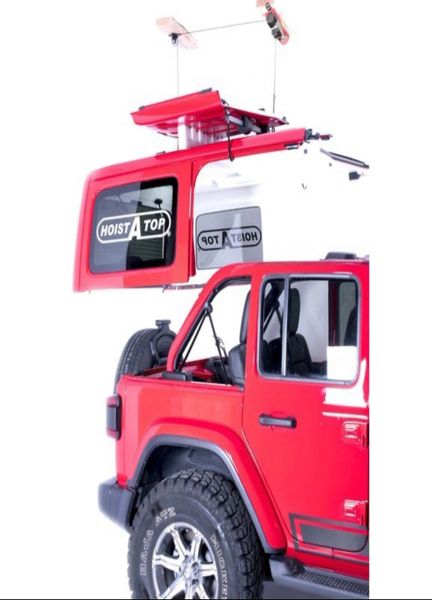 Lange Originals 014-910Power Hoist-a-Top with remote option for 18-21 Jeep Wrangler JL 4-Door Unlimited
Lange Originals
014-910-R 
Power Hoist-a-Top with remote option 
for 18-21 Jeep Wrangler JL 4-Door Unlimited
On Backorder until 10/5
The biggest hassle of owning a Wrangler is switching tops. Running the same top all year is just not an option. Make the change from your winter hardtop to your summer soft top a breeze with the Lange Originals Power Hoist-A-Top. Without the use of a hardtop hoist, it takes multiple people to remove a Jeep hardtop. However, with the assistance of one of Lange Original's Hoist-A-Tops you can take the top off your Wrangler JL 4 Door alone with the push of a button. The balanced steel frame easily lifts and stores factory and aftermarket hardtops. With rubber coated hooks, you do not need to worry about damaging or modifying your hardtop. Lange Original's rear Smart Hook™ ensures that the rear lift gate glass stays closed and out of the way for storage. 
Minimum Ceiling Height: 7'
Maximum Ceiling Height: 25'
Stores and Protects: The Power Hoist-A-Top from Lange Originals features rubber coated hooks and foam padding to avoid marring or scratching the finish of your expensive factory or aftermarket hardtop. Unlike other lifts, the Hoist-A-Top can be used to store your top up in the air, and out of the way.
User Friendly and Versatile: If you can press a button you can operate the Power Hoist-A-Top. Easily winch the top up and down with the provided remote. This is kit is compatible with any garage, carport, barn, or shed with between 7' and 25' ceilings.
INSTALLATION NOTES
Installation Difficulty:
Level 3
Advanced
Please Note: Minor drilling of your garage ceiling is required. No drilling of your Jeep is needed. Tools Needed:
Electric Drill with 3/8" Bit
Phillips Screw Driver
Adjustable Wrench
Measuring Tape
Pencil
Installation Time:
1-2 hours
PARTS INCLUDED
Hoist-A-Top
Electric Winch
Installation Hardware
WARRANTY
1 Year Limited Warranty