Lange Originals 014-GEN2A Hoist-A-Cart Gen 2 for 07-21 Jeep Wrangler JL & JK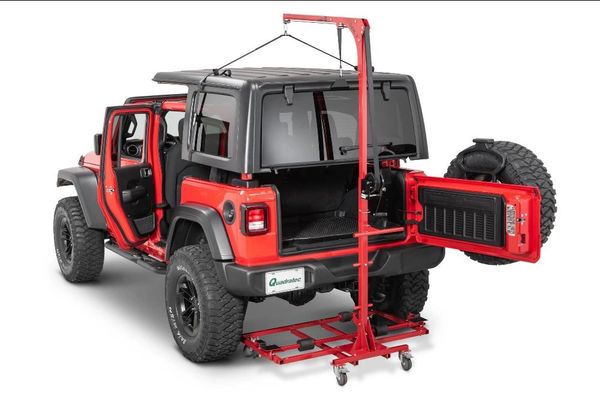 Lange Originals 014-GEN2A Hoist-A-Cart Gen 2 for 07-21 Jeep Wrangler JL & JK
Lange Originals 014-GEN2A Hoist-A-Cart Gen 2 for 07-21 Jeep Wrangler JL & JK
You asked, Lange listened. Introducing the redesigned Hoist-A-Cart Gen 2 for Jeep Wrangler JK and JL models. This cart allows you to remove your hardtop by yourself. No longer do you need to call in an army of family or friends to help pick up and move your hardtop. The design of the Gen 2's arm and frame base is more compact making the overall footprint smaller. Fits great in a corner of your garage, shed, or carport. With this cart, you can remove, lower, and store your top until you're ready to use it again. Featuring nylon webbing with paint protection pads at all touchpoints; A patented Smart Hook which allows you to close your rear window; Rubber coated hardtop sliding tray with ABEC bearings and a pin spring safety lock; Thick foam for hardtop touchpoints; Four locking safety swivel casters; Steering handle; Ratcheting crank with safety lock; And - an included door hanger which holds two doors. An additional door hanger for the rear doors of Unlimited models is available separately, part # 12020.2108 or part # 12020.1041. Cart base measures 55" wide by 48" long. Cart height is adjustable from 80" to 104" tall. Weight capacity is 200-lbs.
Durable: Built to help with your hardtop removal, storage, and reinstallation time and time again.
Easy Storage: The compact design leaves a small footprint and allows for easy storage in your garage, carport, or storage shed.
Simple Operation: No longer task the help of friends or family to help remove your hard top. This cart allows you to remove, store, reinstall your hardtop by yourself!
Don't Forget the Doors: When the weather is nice you can easily store 2-doors on the cart. If you have a 4-door Unlimited model there is an additional door bracket available separately.