MasterTop Replacement Rear Window for 07-18 Jeep Wrangler JK with Original Mopar Soft Top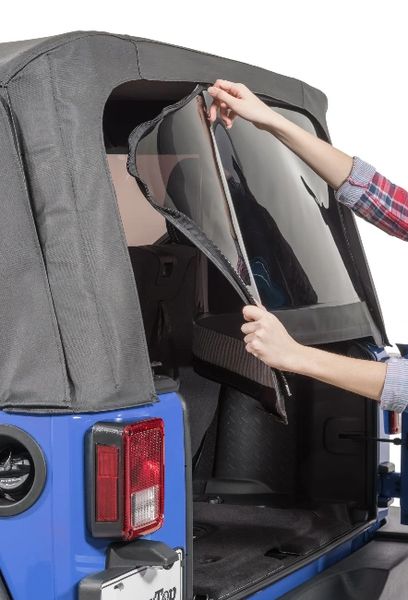 MasterTop Replacement Rear Window for 07-18 Jeep Wrangler JK with Original Mopar Soft Top
MasterTop
Replacement Rear Window 
for 07-18 Jeep Wrangler JK with Original Mopar Soft Top
If your original Mopar Soft top is a few years old, it is most likely time to replace the rear window with a brand new Replacement Rear Window from MasterTop. Since MasterTop uses only high quality Zippers, fabric, and 40 mil window glass in their tops, this zip-in rear window makes for the perfect replacement to rejuvenate your current soft top. Each window is built to factory specifications making the replacement of your windows a breeze. Each window has durable 40 mil tinted window glass with a 31% tint to keep the heat out. OEM quality YKK scoop count zippers are designed to match your current zipper down to the exact tooth count level. The Vinyl replacement windows use 25-28OZ Black Diamond, US made fabric that compliments what you currently have on your vehicle. The Acrylic Black Diamond windows also use the same OE fabric that is found on your 2011-2018 factory soft top. Windows are sold individually.
NOTE:
 These Windows will only work with Mopar Factory Soft Tops. Look in the corner of your current soft top window for the Chrysler or Mopar logo embossed in the window to ensure you have a factory soft top. Before ordering, measure the bottom of your current window; the bottom of the Window Measures Approximately 44.5" on 07-09 Models or Approximately 51.25" on 2010-2018 Models. Measurement is across the window at the bottom heat seal. 2010 Models may have an early or late model window due to a mid-year change in the factory soft top design. It is strongly suggested to measure your window prior to ordering.
OEM Quality: All windows are heat sealed and tested to live up to OEM standards.
Tinted Windows: At a 31% tint these windows will help reduce heat build up in your JK so it stays cooler on those hot sunny days.
Heavy Duty YKK Zippers: HD molded teeth zippers make it easy to zip up or remove the windows in no time in case you decide you want your top down or get caught in a sudden down pour and need to put your top back up.