Oracle Lighting 5769-334 7 High Powered LED Headlight Pair with RGB ColorSHIFT 97-06 Jeep Wrangler TJ & Unlimited, and 07-18 Jeep Wrangler JK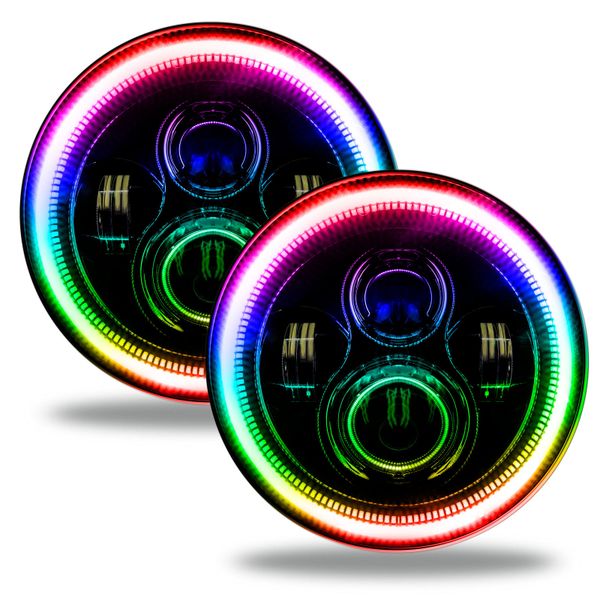 Oracle Lighting 5769-334 7 High Powered LED Headlight Pair with RGB ColorSHIFT 97-06 Jeep Wrangler TJ & Unlimited, and 07-18 Jeep Wrangler JK
Oracle Lighting
5769-334 
7" High Powered LED Headlight Pair 
with RGB ColorSHIFT  97-06 Jeep Wrangler TJ & Unlimited, and 07-18 Jeep Wrangler JK
Upgrading the stock headlights on your Jeep vehicle is a necessity if you drive at night. Why not upgrade the light output and add a touch of customizing while you're at it? Oracle offers this great 7" High Powered LED Headlight Pair in white, RGB ColorSHIFT 2.0, or RGB ColorSHIFT (Without controller) options. ColorSHIFT 2.0 allows you to: Change the halo to millions of color combinations; Change the light pattern; Strobing mode; Brightness adjustment; Save color presets; And DIY custom programming! Each light uses Phillips Luxeon ZES LED's and puts out 3600 Raw Lumens on low beam and 4800 Raw Lumens on high beam! Color temp is 6000K for crisp white output. The projectors provide a wide beam pattern with a sharp cutoff to prevent blinding oncoming vehicles. Combining the hard-coated polycarbonate lens, die-cast corrosion-resistant housings, and heavy-duty solid-state electronics makes for a reliable, long-lasting setup! DOT and SAE compliant. Plug and play installation. No need for Anti-Flicker Wiring Adapters! The new SMART Integrated Can-Bus system automatically adjusts which prevents flickering issues.
ColorSHIFT WiFi uses your phone & a free app to control the lighting.
BRIGHT! These lights are a night and day difference over factory headlights.
Heavy Duty: Built using die-cast corrosion resistant housings and hard-coated polycarbonate lenses.
Multiple Applications: Works for most vehicles which use 7" round headlights & H4 or H13 connectors. Includes adapters for JK. CJ & TJ do not need this.
INSTALLATION NOTES
Installation Difficulty:
Level 2
Intermediate
Installation Time:
Less than an hour
PARTS INCLUDED
Two 7" High Powered LED Headlights
Two "Plug & Play" Wiring Adapters for JK
WARRANTY
2-Year Limited Warranty