Oracle Lighting 5882-504 Flush Mount LED Tail Lights for 20-21 Jeep Gladiator JT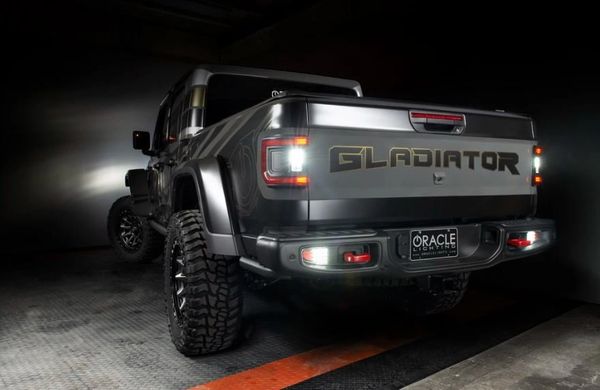 Oracle Lighting 5882-504 Flush Mount LED Tail Lights for 20-21 Jeep Gladiator JT
Oracle Lighting
5882-504 
Flush Mount LED Tail Lights 
for 20-21 Jeep Gladiator JT
-New Product- Shipping ETA 9/23
The Flush Tail Lights from ORACLE Lighting are designed to fit flush with the truck bed of the Jeep Gladiator JT. These Flush Tail Lights offer improved features and OEM factory styling.
This innovative design has a sleek tail light for Jeep Gladiators that wraps tightly around the truck. Protruding out significantly less than the factory tail lights, this low-profile design avoids damage while trail riding. Because of the nearly flush wrap-around design, the lighting can be visible from any rear angle. These lights provide improved LED lighting features including high-powered reverse lights and signature perimeter lighting. In addition to standard features, the plug-and-play design features an enhanced reverse function and caters to the Jeep's optional cross-traffic sensor. The reverse light features 12 high-powered LEDs for optimal rear illumination.
The cross-traffic sensor can be swapped directly over from the factory assembly and easily installs into the ORACLE Lighting tail lights for Jeep Gladiator. ORACLE tail lights are the perfect upgrade for your Jeep Gladiator!
Features

Easy Install: Simple plug-and-play installation. The plug-and-play design features an enhanced reverse function and caters to the Jeep's optional cross-traffic sensor.

Waterproof: IP67 waterproof rated.

Style: These wrap-around lights provide improved LED lighting features including high-powered reverse lights and signature perimeter lighting. The low-profile, wrap-around design can be visible from any rear angle.

PARTS INCLUDED

Two - LED Tail Lights
Plug-and-Play Wiring

WARRANTY

1-Year Limited Warranty