Quadratec 2 Bike Folding Bike Rack for 2" Receiver Hitch 92034.1000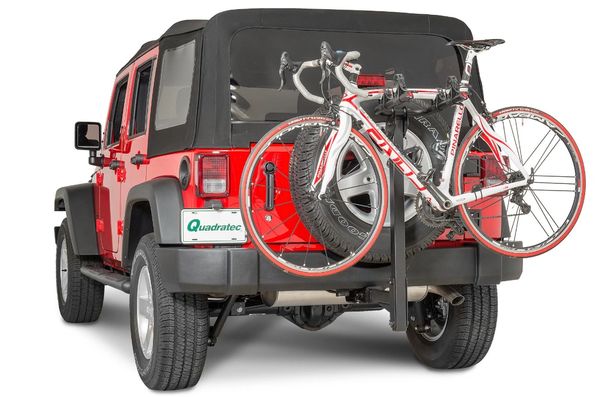 Quadratec 2 Bike Folding Bike Rack for 2" Receiver Hitch 92034.1000
Quadratec
2 Bike Folding Bike Rack 
for 2" Receiver Hitch
Anyone who has used bike racks behind their Jeep knows that sometimes they cause more problems than their worth. Especially if you have things inside your cargo area that you quickly need. Well, Quadratec's carefully designed 2-bike Folding Rack for 2" Receiver hitches provides that easy access you need to the rest of your vehicle while allowing you the convenience of safely transporting two bicycles. This high quality rack is constructed of welded steel and finished with a corrosive-resistant black powder coat, while featuring a smartly designed tilt-back system that permits the use of the tailgate and liftgate without removing the rack. It also offers easy access to the spare. You won't have to worry about excess movement while on the road either, as the specially engineered hitch pin bolt keeps the rack secure and noise free. Your bikes will rest securely in the rubber cradle, and they're secured with adjustable rubber straps as well as an additional nylon cinch strap. Plus, you are able to carry a combined weight of 70 lbs. all without fear of scratching your cargo's finish. Includes three-year warranty.
Note: Not for 2018 and newer JL Wranglers equipped with spare tire mount backup camera.

The Included Supplemental Safety Strap Must Be Used With The Rubber Retainers To Secure Bikes To The Rack.