Quadratec Spare Tire Mount 2 Bike Rack for 18-22 Jeep Wrangler JL 92034-1007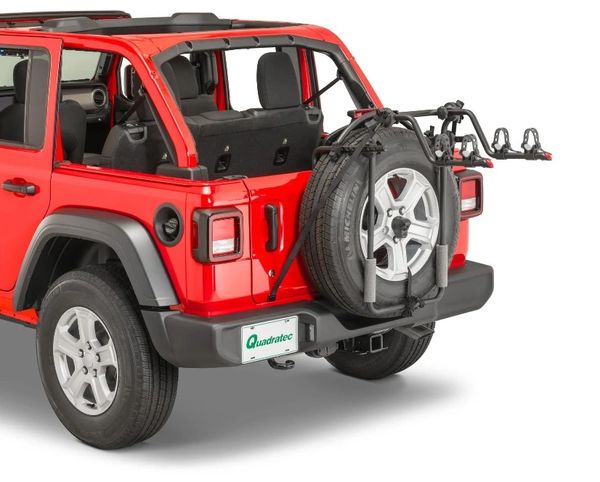 Quadratec Spare Tire Mount 2 Bike Rack for 18-22 Jeep Wrangler JL 92034-1007
Quadratec
Spare Tire Mount 2 Bike Rack 
for 18-22 Jeep Wrangler JL
Backorder ETA- unknown

Quadratec's Spare Tire Mount 2 Bike Rack is possibly the most versatile rack in its class. Optimized for the Wrangler, our fully adjustable rack will work with all factory tire sizes and oversized spares up to 37" x 12.50! This Rack secures over the spare tire allowing continued use of the backup camera found on all 2018 and newer Wrangler JLs. The Bike Rack swings with the tailgate for easy access to the cargo area without rack removal. The Bike carrier arms fold down easily when not transporting bikes. Thick welded steel construction and black powder coat finish provide rugged durability. Rack holds 1 or 2 bikes with a combined weight of 70 lbs. Soft rubberized cradles and adjustable hold down straps firmly secure bikes without marring their finish. The 22" long dual arm supports provide extra stability and are tipped with red safety reflectors. The Bike Rack Collapses to eight inches tall for storage and there's no hitch required. This unit comes complete with nylon cinch straps and installation instructions. Quadratec includes a Three year limited warranty with this Bike Rack.

Note: Also fits 87-18 Wrangler YJ, TJ, and JK models





 

The Included Supplemental Safety Strap Must Be Used With The Rubber Retainers To Secure Bikes To The Rack.
Use of Spare Tire: By attaching to your spare tire this rack allows you to carry 2 bikes without the need of a hitch plus as an added bonus you will still be able to open up your tailgate to load and unload your Jeep.

Adjustable: This fully adjustable rack will work with all factory tire sizes and oversized spares up to 37" x 12.50. The Rack will not obstruct the view of the rear backup camera. Soft rubberized cradles and adjustable hold down straps firmly secure bikes without marring their finish.

Durability: The thick welded steel is protected by a black powder coat finish to withstand the everyday weather conditions plus whatever debris the outdoors can throw at you.

Folding Arms:The 22" long folding dual arm supports provide extra stability and are tipped with red safety reflectors. The Bike carrier arms fold down easily when not transporting bikes.

Weight Limit: This bike rack will hold two bikes with a combined weight of up to 70lbs.

Versatile Design Qualities:

 Easily transports road bikes, mountain, downhill, and fat bikes. For an added convenience the bike rack collapses to eight inches tall for storage.

INSTALLATION NOTES

Installation Difficulty:

Level 1

Beginner

Installation Time:

 

Less than an hour

PARTS INCLUDED

Spare Tire Bike Rack
All Necessary Hardware & Instructions

WARRANTY

Three Year Limited Warranty