Rugged Ridge 11615.61 Aluminum Inner Fender Flare Liners Front Liners for 18-22 Jeep Wrangler JL & Gladiator JT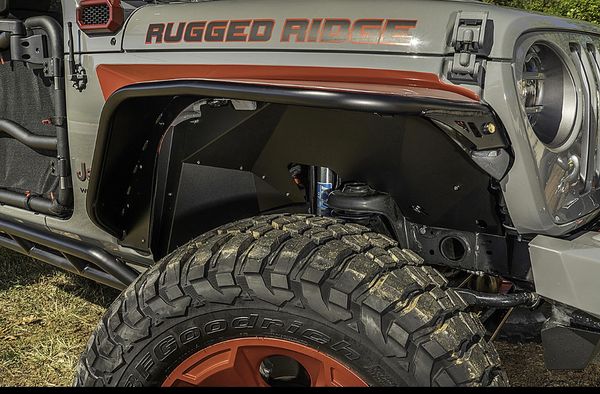 Rugged Ridge 11615.61 Aluminum Inner Fender Flare Liners Front Liners for 18-22 Jeep Wrangler JL & Gladiator JT
These Front Aluminum Inner Fender Flare Linersfrom Rugged Ridge reduce the amount of mud, rocks, and other debris making their way into the engine compartment. Not only does this help to prevent potential damage but it also looks great! Made from 1/16" aluminum which has been CNC laser cut and bent for precise fitment. Built to work with trimmed OEM fender flares and a majority of aftermarket fender flares. Powercoated black for durability. They provide additional clearance for larger tires. Mounts to the OEM mounting locations; Uses factory hardware; No drilling required.
Durable: Powercoated with a long-lasting black finish.
Lightweight: Made from 1/16" aluminum.
Looks Great!: Fits like a glove.
PARTS INCLUDED
Front Inner Fender Flare Liners
WARRANTY
5-Year Limited Warranty