Teraflex 4838100 Alpha HD Hinged Spare Tire Carrier for 07-18 Jeep Wrangler JK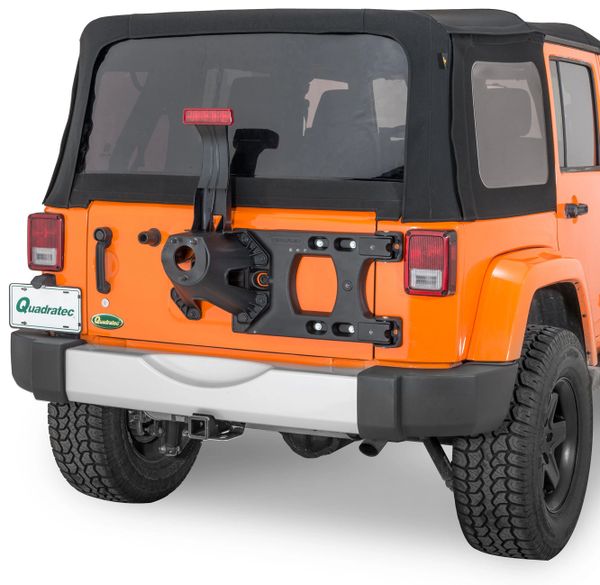 Teraflex 4838100 Alpha HD Hinged Spare Tire Carrier for 07-18 Jeep Wrangler JK
Teraflex
4838100 
Alpha HD Hinged Spare Tire Carrier 
for 07-18 Jeep Wrangler JK
The TeraFlex Heavy Duty Hinged Carrier is designed to carry up to a 37" tire when used in conjunction with the HD Adjustable Spare Tire Mount Kit (see recommended below). The reinforcement Kit spreads the load and weight of the tire to more than just one hinge point. Incorporating and using the factory tailgate hinge mounting points spread and separate the load as far apart as possible, resulting in maximum strength and durability. 5/8" High-carbon Hardened Steel Pins connect the cast aluminum carrier to the HD forged hinges. Pre-installed brass bushings provide low frictions movement. The forged steel hinge brackets bolt to the factory reinforced hinge mounting points for superior strength. The hinge brackets provide support needed for the complete assembly.
Dedicated tooling provides a cast A356.2 T6 Aluminum main component. This keeps the carrier as light, and strong as possible. The fit and finish is designed to follow the flow and contour of the Jeep tub, while seamlessly providing additional mounting points for off road accessories such as recovery jack and fluid containers. The factory Jeep body provides substantial internal gussets and bracing that easily supports the new tire carrier and over sized tire. The HD hinge brackets are forged steel and the HD 5/8" hinge pins are constructed from cold formed high-carbon hardened steel. The HD hinged carrier removes all stress from the tailgate by utilizing the Hinged Carrier itself as the load-carrying component, in effect it carries the weight of the tailgate assembly and the spare tire.
Lightweight aluminum
Maintains single one-handed entry to the Jeep cargo area
Allows adjustment for up to 37" tire when used in conjunction with the HD Adjustable Spare Tire Mounting Kit
Threaded mounting holes for mounting accessories (fuel cans, recovery jack, etc.)
Eliminates tailgate stress and rattles
Simplicity and Ease of installation - installation can be performed using common hand tools.
No drilling required.
Factory form fitting geometry and finish. CAD-designed tooling follows the precise compound curvature of the Jeep body, resulting in a carrier with an OEM appearance.
No aftermarket bumper purchase required - works with OE and aftermarket bumpers.