Tuffy Security Deck Enclosure Jeep Wrangler JKU/JLU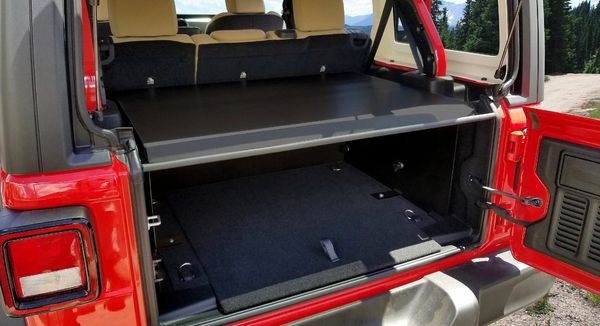 Tuffy Security Deck Enclosure Jeep Wrangler JKU/JLU
Tuffy Security Deck Enclosure Jeep Wrangler JKU/JLU
Keep your gear and valuables that are stored in the rear cargo area secure with the Tuffy Products Security Deck Enclosure. Constructed from heavy duty 16 gauge steel, this deck enclosure completely seals the rear cargo section of any Wrangler JK/JL 4 Door and installs easily to the floor of the Jeep with simple hand tools. The lid hinges open and can remain propped with the attached support rod. The vertical front and side panels, along with the lid, can be easily removed to carry larger items when necessary. Once installed, the security deck enclosure adds an additional level of security with the tailgate closed and locked which creates a solid and secure area. This item is compatible with hardtops or soft tops installed. Available fully enclosed for vehicles without the factory sub-woofer, or cutout for vehicles with the factory sub-woofer. 
Add even more secure lockable space for your trail gear with a combo that includes the Security Deck Enclosure along with Tuffy's Tailgate Lock Box to truly maximize the number of secure spaces for items that are sensitive or valuable in your JL Wrangler. Made from heavy-duty 16 gauge steel, with welded construction including a pry-guard lid with Tuffy's 10-tumbler double-bitted lock. When the lockbox is folded open it can support up to 40 lbs as a table great for tailgating at your favorite sporting event or some extra workspace at your campground site. Get the most out of your cargo hold with great peace of mind that your valuables or costly trail gear will remain secure.
*Note* will not fit a 4xe
Strong, Secure & Functional: With a lid equipped to handle more of your cargo, secure articles with the included 4 cargo tie downs and straps to maximize your storage space utilization.
Quality Construction Made in the USA: Heavy-duty 16 gauge steel construction is given a durable powder coat finish that holds up to rugged use. Tuffy supplies the highest quality stainless hardware and detailed instructions for a simple installation.
Convenient Combo: Add even more highly secure storage for gear with a combo featuring the storage enclosure along with Tuffy's Tailgate Lock Box, further enhancing your cargo management while providing a clever table for various uses when parked.
INSTALLATION NOTES
Installation Difficulty:
Level 2
Intermediate
Installation Time:
1-2 hours
Deck Enclosure

Installation
Instructions
Tailgate Lock Box

Installation
Instructions
PARTS INCLUDED
Enclosure Front Panel
Enclosure Lid
Enclosure Sides Left & Right
Cargo Lid Loops & Straps
Bulb Trim Seal
Hardware
Tailgate Lock Box (when option selected)
Removable shelf left & right
Seal
Hardware