Westin 18-C WRANGLER JL/JT (EXCL 2018 JK) WJ2 FULL WIDTH FRONT BUMPER W/LED LIGHT BAR MOUNT 59-80125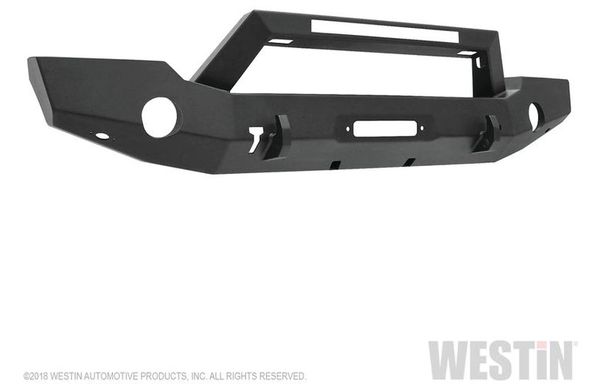 Westin 18-C WRANGLER JL/JT (EXCL 2018 JK) WJ2 FULL WIDTH FRONT BUMPER W/LED LIGHT BAR MOUNT 59-80125
Westin 18-C WRANGLER JL/JT (EXCL 2018 JK) WJ2 FULL WIDTH FRONT BUMPER W/LED LIGHT BAR MOUNT
Outfitting your Wrangler JL with a proper front bumper to take on the off-road is made simple with Westin's WJ2 Front Full Width Bumper. This bumper gives you fender to fender protection while still allowing for you to run larger tires and providing better ground clearance. Another great feature is the ability to fit a winch inside the bumper to maintain better airflow to your radiator. Add in the jack points and shackle mounts this bumper makes for a great off-road bumper. 
Includes:  a full width bumper with bull bar or a full width bumper with an LED light mount that holds 20" LED light bars (sold seperatly).
Features: Two side & two front jack points to help you out of a jam on the road or trails. Add some extra lighting with corner light mount points to help see under your Jeep so you do not get caught up on a rock. Shackle mounts for added recovery points.
Construction: Made from strong durable 3/16" steel to protect your Wrangler JL from off-road debris. A slick looking powder coat to prevent rust keeping your bumper looking solid.
Fitment Note: Vehicle frame bracket grinding required for some competitor winches.
INSTALLATION NOTES
Installation Difficulty:
Level 2
Intermediate
Installation Time:
2-4 hours