Quadratec Brute Strength Bumper for 18-22 Jeep Wrangler JL & Gladiator JT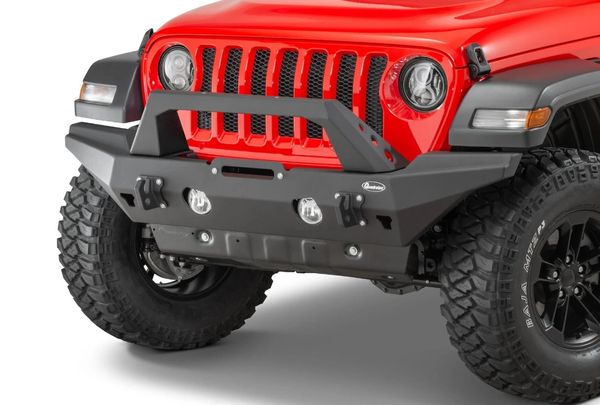 Quadratec Brute Strength Bumper for 18-22 Jeep Wrangler JL & Gladiator JT
Quadratec
Brute Strength Bumper 
for 18-22 Jeep Wrangler JL & Gladiator JT
Jeep shaved weight from the JL and JT by using aluminum in the hood, doors and body. Wouldn't it be awesome if there was a bumper that did the same? We thought so. That's why we invented the Brute Strength™ Winch Bumper by Quadratec. It weighs barely more than a factory plastic bumper, but offers enhanced off-road protection for your grille, flares and body.
It's a Jeep, so why does weight matter? The answer is simple... Less weight means better fuel economy. It also means faster acceleration, better braking and less suspension sag. If you're an overland adventurer, it can mean the difference between making it to your next checkpoint and borrowing gas from a passer by. If your Jeep is a daily driver, you'll save money at the pump and get enhanced off-road capabilities... the best of both worlds. The gas savings alone will pay for the bumper over the life of your Jeep.
Behind the scenes, everything is engineered for top off-road performance. See those farm jack openings next to the d-rings? We've hidden a small steel bracket inside that's bolted directly to the frame. The bracket prevents your bumper from getting knarled when using a Hi-Lift jack. We even added steel to the winch plate so you can choose a winch up to 12,000 lb. This bumper has strength where you need it and weight savings where you don't.
Image shown with Optional Front Bumper Skid Plate
Please Note: Sport model fog lights will require Mopar # 68298651AA fog light mounting brackets for fitment. NOT compatible with factory steel bumper fog lights.
The Quadratec Brute Strength™ Winch Ready Front Bumper offers ultimate protection for the front of your Jeep Wrangler JL and Gladiator JT. This premium bumper has a fully welded one piece outer construction using 6mm thick lightweight aluminum plate. The aggressively styled Competition Bumper bolts directly to the vehicle's existing mounting points and there's no drilling or modifications required. The separate 5mm thick steel winch plate provides a superior substructure and will accommodate most winches up to 12,000 lb capacity. This design offers a significant weight savings over comparable all steel bumpers. Keeping the weight down on your Wrangler was the reason why Jeep went with aluminum parts for the body. Lighter weight means less change in gas mileage and without the heavy weight of a steel bumper you won't have to worry about the front end dipping down while braking.
Our Brute Strength Winch Bumpers are fully finished with an attractive and durable light textured black powder coating. Bumpers feature fog light provisions to retain the factory fog lights and can be upgraded to our high performance plug-n-play LED versions. The Brute Strength Stubby design measures 47" wide and provides addition tire clearance if needed while the Brute Strength Full Width design measures 69" wide. Bumpers include a removable aluminum over rider hoop with sleek dimpled speed holes and a durable 4mm thick fully welded construction. The over rider hoop measures 40" wide at the base and features a series of holes and slots for auxiliary light mounting. The welded steel recovery plates feature tow hooks and D-Ring mounts for use with 3/4" D-Rings with 7/8" pins. D-Rings, lights and skid plate are available separately.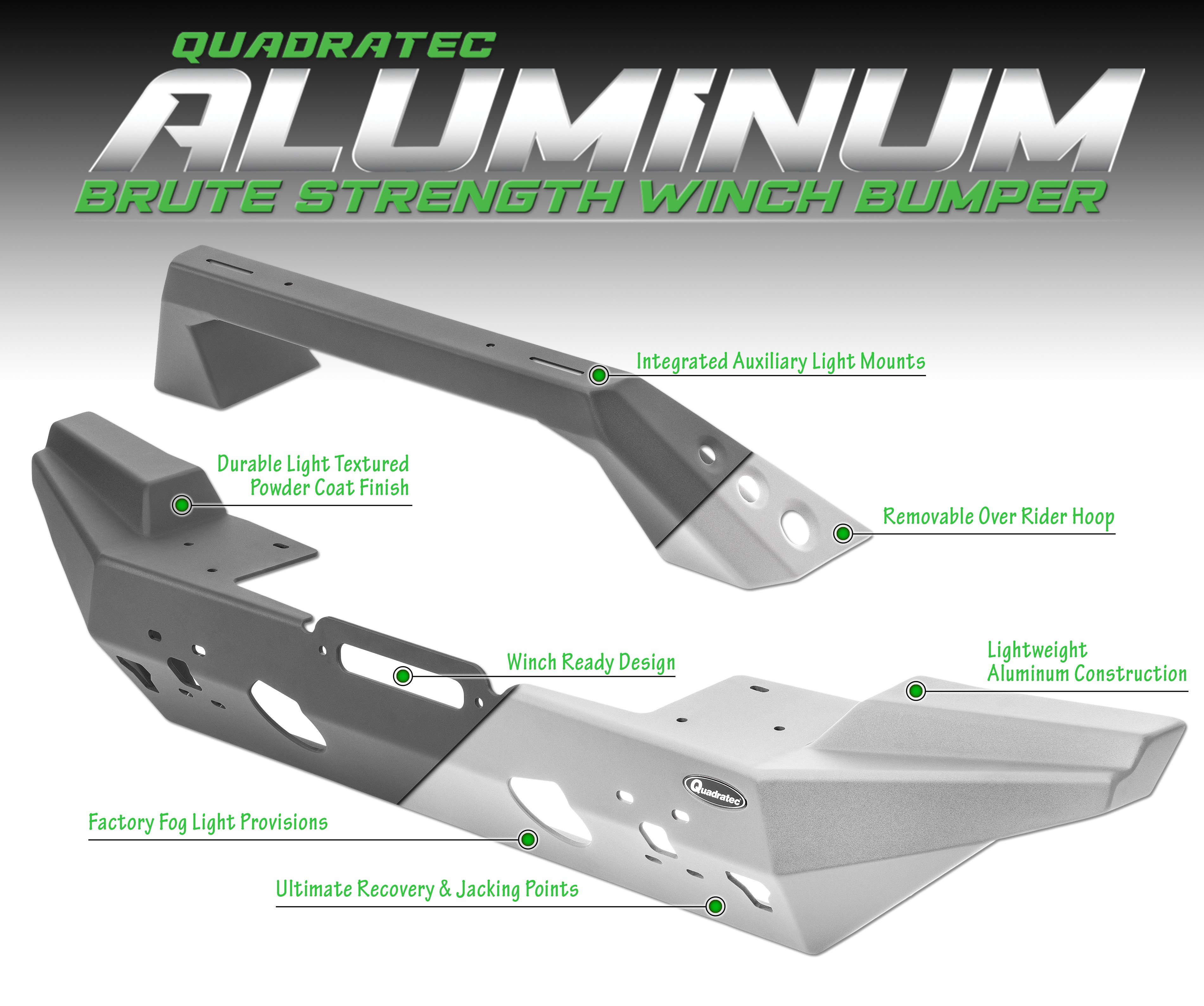 Lightweight HD Aluminum Design: This killer bumper offers a lightweight heavy duty solution to protect the front end of your Jeep. The full width version weighs in at 71 pounds while the stubby version weighs in at a mere 64 pounds. You can even shave off another 8 pounds if you choose not to install the included Over Rider Hoop.
Off-Road Winch Ready: The premium winch plate is made from a 5mm thick steel plate with a standard 10" x 4.5" bolt pattern accepting most winches up to 12,000 lbs. This winch plate will allow you to add much needed recovery to the front of your Jeep Wrangler JL and Gladiator JT.
Versatile Grille Guard: The removable aluminum over rider hoop has sleek dimpled speed holes and is made from durable 4mm thick material. This over rider hoop features a series of holes and slots for limitless auxiliary light mounting options. The top side offers slotted 8mm holes that will accommodate light bars with mounting dimensions of 17-3/4" up to 23" wide, while the additional 2 - 10mm holes are 12-5/8" apart. This variety of mounting options gives you the ability to mount lights that look cool, suit your specific needs and allow you to give your bumper that custom look.
Ultimate Recovery & Jacking Points: The supplied d-ring mounts are made from 3/4" thick steel and have integrated tow strap hooks on top. The integrated holes accept 3/4" D-Rings using a 7/8" pin size giving your Jeep a bold aggressive look with multiple recovery points for all your trail riding adventures. The face of the bumper offers two stout Hi-Lift jack points for safe and simple jacking. These holes also help prevent the jack from sliding off for a safer user friendly solution. For superior strength the Hi-Lift jack will lift up on the steel plate winch mount behind the aluminum bumper fascia.
Simple No Drill Installation: This bumper is a direct bolt on installation that does not require any drilling or modification. This easy installation is for the do it yourself installer that can be done with basic hand tools.
INSTALLATION NOTES
Installation Difficulty:
Level 2
Intermediate
Installation Time:
1-2 hours
Front Bumper

Installation
Instructions
PARTS INCLUDED
Front Bumper
Grille Guard
Winch Mounting Plate
D-Ring Mounting Pair
Installation Hardware
WARRANTY
Three Year Limited Warranty