Quadratec Tru-Fit® Rear Cargo Liner for 18-23 Jeep Wrangler JL Unlimited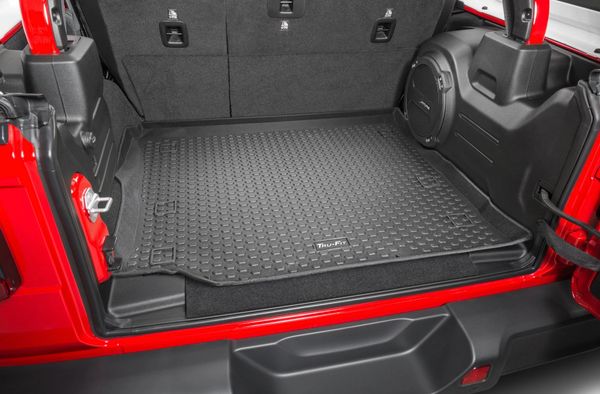 Quadratec Tru-Fit® Rear Cargo Liner for 18-23 Jeep Wrangler JL Unlimited
Quadratec
Tru-Fit

®

 Rear Cargo Liner 
for 18-23 Jeep Wrangler JL Unlimited


Giving your Jeep Wrangler JL Unlimited a refined look while adding a layer of protection has never been easier with the Tru-Fit® Series Cargo Liners. This protective cargo area liner is made from a lightly textured satin black TPE-V plastic material that ensures a snug fit that is water-tight and extremely durable. The Tru-Fit® Cargo Liners are designed to match our Tru-Fit® Floor Liners in performance, quality, and style. Whether you need just a cargo liner or a set of floor liners, the Tru-Fit® Series is a sure winner. Liners also feature OEM style retention provisions, where applicable, to secure your liners in place. All Tru-Fit® Floor Liners are flexible but sturdy and the affordable choice over the competition. Protect your investment with the comfort, style, and convenience that you deserve. Backed by Quadratec's Three Year Limited Warranty.
Note: All Rear Cargo Liners are not Compatible with the Wrangler Unlimited 4-Door 4xe Hybrid Electric Models
Stylish Protection: The Tru-Fit® Cargo Liner protects the vital floor areas of your Jeep Wrangler JL Unlimited in style! Made from durable TPE-V plastic material, these liners are flexible to ensure a snug fit to provide the ultimate in floor protection. 
Keep It Clean: The built-in three-dimensional tread patterns are built to retain dirt and water, keeping your feet clean and dry while also keeping your valuable interior free of anything that could cause corrosion or mildew. 
Easy Upgrade: The liners install easily on the floor of the Jeep, using OEM style retention points where applicable so you can be sure they will stay in place. The Tru-Fit® Liners can be easily removed for quick cleaning, just hose them off and put them right back into place.
INSTALLATION NOTES
Installation Difficulty:
Level 1
Beginner
Installation Time:
Less than an hour
WARRANTY
Three Year Limited Warranty