AEV Snorkel System for 18-23 Jeep Wrangler JL & Gladiator JT 40306510AC/40306500AC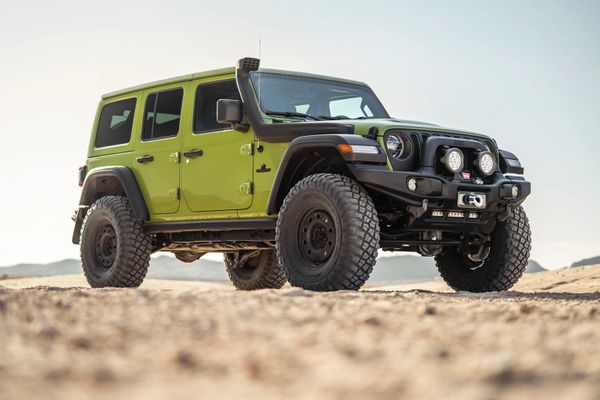 AEV Snorkel System for 18-23 Jeep Wrangler JL & Gladiator JT 40306510AC/40306500AC
AEV
Snorkel System 
for 18-23 Jeep Wrangler JL & Gladiator JT
Contrary to popular belief, snorkels are not just for river crossings. By gathering air from well above the engine compartment, snorkels deliver cleaner, cooler air to your Jeep's engine. The AEV Snorkel System was specifically designed for use with the JL Wrangler and JT Gladiator. This lightweight snorkel system is made form durable, UV-stable crosslinked polyethylene. With an included fender specific bracket, the AEV Snorkel System has an OEM quality fit and finish.

Installation Note: The 2.0 AEV Snorkel System is NOT compatible with the 3.0L diesel engine or the Mojave edition Gladiator JT you must select the 3.0 Diesel option.




Heavy-Duty Construction: Made from thermal and UV stable cross-linked polyethylene, the AEV Snorkel System is lightweight but durable. It can hold up to both off-road abuse and extreme temperatures.

Optional Accessories: If you live in a particularly dusty climate, then a Sy-Klone Pre-Filter Assembly (sold separately) is a good add on for your AEV Snorkel System. This self-cleaning prefilter is designed to eject dirt, sand, silt, and debris before it reaches your air filter. For the full open-air experience, AEV offers their A-Pillar Snorkel Mount (sold separately). This adapter bracket allows you to fold your Jeep's windshield down without removing your AEV Snorkel System.

Vehicle Specific Design: This AEV Snorkel System was engineered for use with both JL Wranglers and JT Gladiators. It is compatible with the 2.0L, 3.6L, and 2.2L CRD engines, however it will not work with the 3.0L EcoDiesel.

Factory Fender Flare Options: Wranglers and Gladiators are available from the factory in two different fender configurations. Rubicons come equipped with High Fender Flares, where the Sport, Sahara, and most other trim levels have Standard Fender Flares. AEV allows you to choose the option that matches the flares are currently installed on your Jeep.

– This snorkel kit is NOT compatible with Mojave Gladiator (gas or diesel).
– The AEV Snorkel is not recommended for JL Wranglers equipped with a one-touch power top.
– The optional Sy-klone Pre-Filter is not recommended for 3.0L EcoDiesel.
– The optional A-Pillar Mount is not compatible with 3.0L EcoDiesel engines.
Fender Flare Specific Designs
The JL Wrangler/Gladiator Snorkel Kits are ordered according to your engine and OE fender flare style – which is either a "high" or "low" style fender flare. In North America for example, Rubicon models have a "high" fender flare option that allows for more tire clearance. They may look similar, but the "high" fender flare sits about an inch higher and is an inch wider than the standard or "low" fender flare. Export models may vary, depending on the destination country. Please refer to the graphic if you are unsure what style fender flare you have. The EcoDiesel Snorkel is only available for the high flare option.