ARB On Board Twin Air Compressor Kit 12v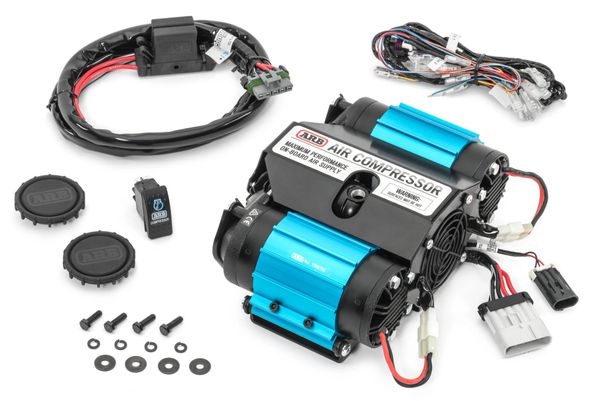 ARB On Board Twin Air Compressor Kit 12v
ARB
On Board Twin Air Compressor Kit 12v
This compact vehicle mounted compressor has been designed to do everything! Activate your ARB Air Locking Differentials, air up a 35" tire in less than a minute and run air tools. This 100% duty cycle, 6.16 CFM compressor is built to support all of your compressed air needs. The CKMTA12 and CKMTA24 twin on-board compressor kits were designed to fill the off road markets need for a compact sized yet high-volume compressed air source to suit the high volume airflow needs of most air powered tools, and also to suit the actuation and control needs of the ARB Air Locker, and the harsh and demanding environment of the ARB Air Locker user. Air manifold also available for running air tools or dual lockers.
Available in 12V (CKMTA12) 
Constructed primarily of light weight, high strength, engineering grade materials, including military and aerospace standard components.
Pressure switch controlled air manifold system regulates pressure between 9.3Bar [135PSI] and 10.3Bar [150PSI] suited to air tools and all ARB Air Locker equipped vehicles.
Highest air flow rate of any 12V compressor of its size on the market at 174LPM [6.16CFM].
High efficiency design consumes only 56 Amps at maximum air flow.
Built with sealed components for moisture and dust resistance.
Hard-anodized cylinder bores and PTFE (Teflon) impregnated carbon fiber piston seals for reduced friction and maximum trouble free life.
Ducted IP55 sealed brushless DC cooling fan and anodized motor mounting brackets effectively dissipate heat from the motors, heads and electronics allowing for a 100% duty cycle (under room temperature
conditions).
Anti-vibration / sound deadening is integrated into the mount.
Relocatable splash resistant air filter assemblies for cleaner, cooler air supply and versatile waterproof air intake positioning.
High density and high flow washable sintered bronze air filter elements.
Full wiring loom included for simplified installation and easy plug-in connectivity to Air Locker control solenoids. (Note: Air Locker Manifold Kit #171503 required to mount solenoids)
Equipped with dual heavy duty Maxi-Fuses for professional in-line circuit protection and true circuit redundancy in case of a fault.
Motors are water sealed, 100% ball bearing equipped (i.e., no bushings used), and feature a unique linear brush pre-load system for extra long life, low heat and quiet operation throughout the life of the unit.
Motors are internally thermal protected against extreme temperature damage.
Compressor pistons are equipped with a heavy duty European made cylindrical roller bearing.
Over-pressure safety valve equipped.
Sealed illuminated automotive grade dash switch included.
Fully serviceable and all replacement parts available.
EMF suppressed for use in proximity to sensitive electronic equipment.
CE and C-Tick compliant.
Engineered, built, and individually dyno-tested in Australia from local and imported components.
PARTS INCLUDED
Fully assembled and tested air compressor (12V or 24)
Complete wiring loom w/ Air Locker solenoid plug-in terminals.
Automotive OEM quality compressor isolating switch.
2 x relocatable splash resistant air filters with washable high-flow sintered bronze filter cartridges.
Mounting bolts and washers.
Comprehensive photo illustrated installation guide.
WARRANTY
3 Year Limited Warranty
Available add-on
Teraflex under seat mount
The 

TeraFlex ARB Compressor Under Seat Mount

 is engineered to mount your ARB On-Board High Performance 12-Volt Twin Air Compressor conveniently under the front passenger seat (driver seat of a 2007 model year) of your Jeep Wrangler JK Unlimited 4-door protecting it from the hazards of the outdoors. This kit also allows easy access to the manifold and locker solenoids to be mounted next to the compressor for uncomplicated hose routing. This mounting system includes a vent exhaust hose kit to safely route fumes to the exterior of the vehicle.