DayStar 1.5 Series Jeep Renegade Lift Kit for the 2015-17 Jeep Renegade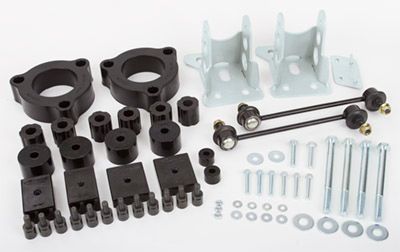 DayStar 1.5 Series Jeep Renegade Lift Kit for the 2015-17 Jeep Renegade
DayStar 1.5 Series Jeep Renegade Lift Kit for the 2015-17 Jeep Renegade
Daystar Products, the leading manufacturer of American Made Lift and Leveling kits, is proud to release the industry's first "Comfort Ride" Jeep Renegade lift kit for all models of the 2015-2016 Jeep Renegade.

The KJ09168BK "Comfort Ride" Lift kit is 100% bolt on, easy to install, and FMVSS 126 Compliant. Daystar's Top Load Strut Stud Extender Mounts and Coil Spring Spacers allow you to install the leveling kit without having to disassemble the strut assembly. The Daystar Jeep Renegade Lift Kit fits all Renegade models including 2WD and 4WD Sport, Latitude, Limited and Trailhawk models. The kit is designed to Lift your Jeep Renegade 1 1/2 inches while maintaining the factory ride and stability. The actual lift may vary depending on the model. The Daystar Renegade Lift Kit will fit up to two sizes of larger tires mounted on stock wheels.

Features of the Daystar KJ09168BK "Comfort Ride" Jeep Renegade Lift Kit;
100% Bolt On
1.5 Series Lift Kit.
FMVSS126 Compliant.
Lifetime Go Everywhere Warranty.
Renegade Lift Kit includes 2 Front Progressive Rate Polyurethane Coil Spacers.
2 Rear Progressive Rate Polyurethane Coil Spring Spacers.
2 Front Sway Bar End Links.
2 Rear Control Arm Brackets.
No strut disassembly required. Made from high density progressive rate polyurethane. Polyurethane Coil Spacers insure No Metal to Metal contact; corrosion or squeaks while Maintaining factory ride quality and superior handling. All Daystar lift kits come with a Lifetime Go Everywhere Warranty. Simply put, if your kit has any issues we will replace the part free of charge.