DV8 Offroad RBJL-06 Rear Bumper for 18-21 Jeep Wrangler JL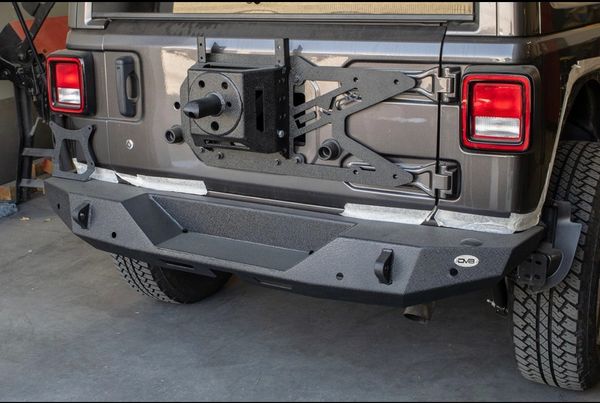 DV8 Offroad RBJL-06 Rear Bumper for 18-21 Jeep Wrangler JL
DV8 Offroad
RBJL-06 
Rear Bumper 
for 18-21 Jeep Wrangler JL
If you are in the market for a beefier looking rear bumper for your Wrangler JL that also helps out in the clearance department DV8 has you covered! This 
High Clearance Rear Bumper
 gives you the angles you need to come off of rock ledges easier plus has two shackle recovery points and comes with a license plate relocation bracket. Manufactured from steel for added protection then textured black powder coated to prevent corrosion.
Aggressive Design: The high angle design on this bumper are not just to give your Jeep a rugged look but the also serve a purpose as well. From making it easier to come off of ledges to traversing the more difficult trails you will have peace of mind that you have a quality off-road bumper.
Features: A relocation bracket with a light for your license plate so you do not have to worry about where to put it along with two shackle point to add more recovery options. Another great feature is the ability to accommodate back up sensors.
Installation: A simple bolt on installation that does not require cutting or drilling so you can get it on your JL then test it out on the trails.
INSTALLATION NOTES
Installation Difficulty:
Level 2
Intermediate
Installation Time:
2-4 hours
PARTS INCLUDED
Rear Bumper
License Plate Relocation Bracket
Hardware