DV8 Offroad RDJL-01 Rock Doors with Perforated Aluminum Mesh Screens for 18-21 Jeep Wrangler JL Unlimited & Gladiator JT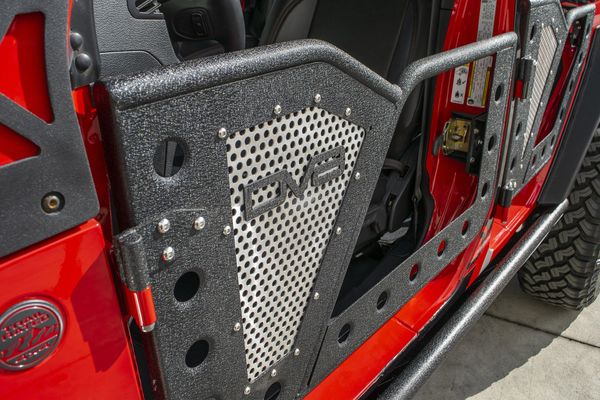 DV8 Offroad RDJL-01 Rock Doors with Perforated Aluminum Mesh Screens for 18-21 Jeep Wrangler JL Unlimited & Gladiator JT
DV8 Offroad
RDJL-01 
Rock Doors with Perforated Aluminum Mesh Screens 
for 18-21 Jeep Wrangler JL Unlimited & Gladiator JT
When driving around in your Wrangler JL it is always great to get the full experience of the open air with no doors. Thanks to DV8 you can get that feeling while still having doors on with their Rock Doors with Perforated Aluminum Mesh Screens. These doors will bring the open air feel along with the security of having a door on your Jeep. Add in the removable mesh screens that allow for you to paint them to customize your rig and you have a top of the line product for drive around town or on the trails.
Construction: Made from .160 wall tubing and 3/16" steel plating these doors are strong and durable. The removable mesh screens are made from paintable aluminum to add style to your JL.

Design: The tubular design will help with better visibility while you are off-roading and an integrated stopper prevents these doors from rattling unlike some aftermarket tube doors. Removable mesh inserts can be painted to customize your Jeep and the included limit straps help to prevent the door from swinging open too far.

Open Air Feel: Having your top down is one thing but to have tube doors gives you the complete feel of riding around with your top and doors off while keeping you and your passengers safe and secure inside the vehicle.