DV8 Offroad SPJL-01 JEEP JL FRONT SKID PLATE / SWAY BAR DISCONNECT SKID (SPJL-01) 2018+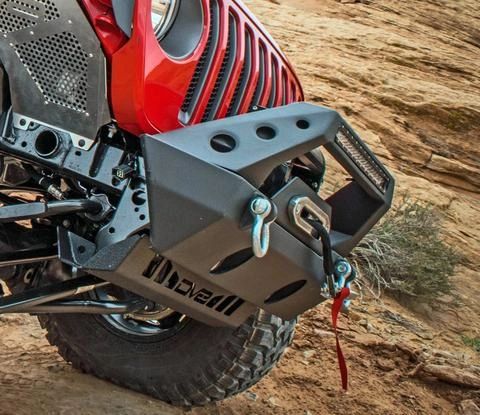 DV8 Offroad SPJL-01 JEEP JL FRONT SKID PLATE / SWAY BAR DISCONNECT SKID (SPJL-01) 2018+
The DV8 SPJL-01 skid plate protects the exposed sway bar disconnect and factory crash bar. The factory crash bar and electronic disconnect (Rubicon model) hang down and are prone to damage by rocks and trail obstacles. The DV8 JL skid plate protects these areas and clean up the aesthetics here when installing an aftermarket bumper. This skid plate works with all of DV8 Offroad front bumpers for JL Jeep Wranglers.
Front Undercarriage: Protect your Jeep's crash bar and sway bar disconnects from obstacles such as rocks, shrubs, and other objects on the trails.
Metal Alloy: This durable material is powder coated to protect from corrosion and scratches.
Compatibility: This skid plate looks great with a DV8 front bumper as well as completes the look of the front of your Jeep.
INSTALLATION NOTES
Installation Difficulty:
Level 3
Advanced
1. Some modifications may be needed to create mounting points.
Installation Time:
Less than an hour
PARTS INCLUDED
Sway Bar Disconnect Skid Plate
Installation Hardware
WARRANTY
3 Year Limited Warranty