KC GRAVITY LED 7" HEADLIGHTS PAIR PACK SYSTEM - DOT 42351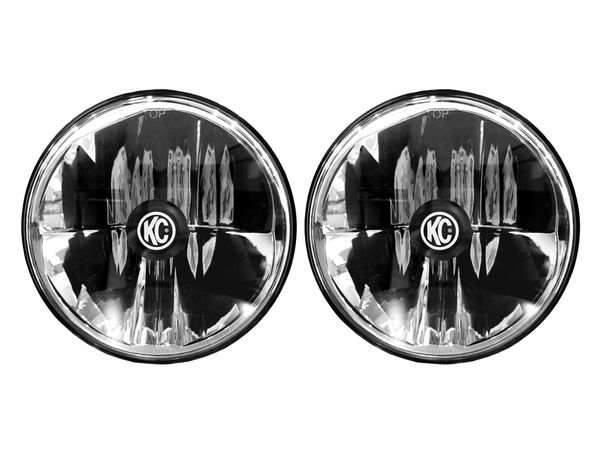 KC GRAVITY LED 7" HEADLIGHTS PAIR PACK SYSTEM - DOT 42351
OVERVIEW
KC Gravity® LED 7" Headlights are fully DOT compliant and feature patented GRD LED technology, High/Low beams with built-in DRL, and anti-flicker capacitors. KC's patented optics produce visibility and clarity second to none.
IMPORTANT DISCLAIMER:

 

Gravity® LED 7" Headlights do not meet ECE regulations at this time and are intended for off road use only in European countries that have adopted ECE regulations. 
FEATURES
-Patented Gravity® GRD (Gravity Reflective Diode) technology
-Precision die-cast aluminum housing with machined polished reflector optics, engineered for improved distance, visibility and clarity
-Hard coated Polycarbonate lens for optical clarity and maximum light output
-DOT Compliant Low Beam and High Beam with On-board Day Running Lamp Support(Standard on 07-17 Canada Spec Jeep JK)
-Easy plug-and-play installation to factory H4 connectors on Jeep 97-06 TJ or H13 connectors for 07-17 Jeep JKs
-***Note: Does not fit 2017 Jeep JK Rubicon or Sahara editions or Jeep JKs equipped with factory LED headlights
-Universal Plug-n-Play with factory 7" H4 Headlights(KC 42361):
› 97-06 Jeep Wrangler TJ
› Retrofit upgrade for classic Domestic, European and JDM vehicles
LIGHT PERFORMANCE(PER LIGHT)
-Raw Lumens: Low- 1,260 lm, High- 3,666 lm, DRL- 275 lm
-Lux @ 10 Meters: Low- 415 lx, High- 775 lx

-Candela: Low- 41,500 cd, High- 77,500 cd
-Beam Distance: Low- 407m, High- 557m
SPECIFICATIONS
-Wattage: Low- 18W, High- 22W
-LED Bulb: CREE XHP35 HI and Nichia
-Color Temperature: 5000K
-Amp Draw: 1.88A
-Voltage: 9V-18V
-IP Rating: IP68
-Product Dimensions: W - 6.96" x D - 3.72"
PARTS INCLUDED WITH GRAVITY® LED 7" HEADLIGHTS
-(2) Gravity® LED 7" Headlights
PERFORMANCE OUTPUT AND CLARITY
At the center of KC's new Gravity® LED 7" Headlight is our patented Gravity® Reflective Diode (GRD) technology, which is engineered for the driver to see every lumen emitted from the headlight by directing the LEDs to precisely engineered reflector optics at the most ideal angles. This proprietary technology provides a highly functional beam shape with extraordinary beam distance.
HIGH PERFORMANCE MEETS AFFORDABILITY
Gravity® LED 7" Headlights are engineered to perform at the highest standards, no matter the road conditions, while also being an affordable upgrade that greatly outperforms stock headlights.
HIGH/LOW/DRL FUNCTIONS BUILT IN FOR JEEP JK
The Gravity® LED 7" Headlight includes built-in functionality for the DRL (Daytime Running Light) and comes ready to install with H13 plug-and-play connectors.