KC HiLiTES 4" Gravity LED Replacement Fog Light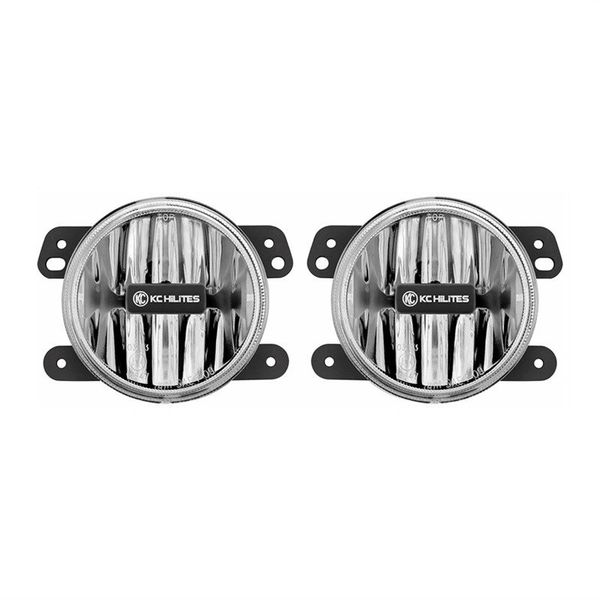 KC HiLiTES 4" Gravity LED Replacement Fog Light
OVERVIEW
KC HiLiTES 4" Gravity LED Replacement Fog Light feature bright CREE LEDs in a Street Legal Fog Beam pattern. Magnesium housing and shatter proof polycarbonate lens. Pair includes factory wire connectors(excludes 07-09 JK models) and bracket for easy mounting on 07-17 Jeep JKs.

*Disclaimer: KC Jeep JK Fog Light Systems are not compatible with 2013 Jeep JK Anniversary Edition and 2015-2016 Rubicon Hard Rock Edition Models 
FEATURES
-2 x 10W 4" Gravity® LED Fog Lights
-Lightweight Magnesium Housing for Maximum Heat Dissipation
-Street Legal 2007-2017 Jeep JK Application(Excludes 2013 Anniversary Edition)
-OE Factory Connectors for Plug-N-Play Install on 10-17 Jeep JK (Excludes 07-09 Models)
-Clear or Amber LED
-Shatter Proof Polycarbonate Lens
-Fog Beam Pattern (SAE & ECE Street Legal)
LIGHT PERFORMANCE(PER LIGHT)
-Raw Lumens: 866 lm
-Compliance: SAE J583 & ECE-R19 Street Legal
-Lux @ 10 Meters: 150 lx
-Candela: 15,000 cd
-Beam Distance (Meters): 245m
SPECIFICATIONS(PER LIGHT)
-Wattage: 10W
-LED Source: CREE XP-G R4 LED
-Color Temperature: 5000K
-Amp Draw: .74A
-Voltage: 9V-32V
-IP Rating: IP68
-Product Dimensions: W - 3.94" x H - 3.94" x D - 3.44"
Parts Included in Pair Pack
-(2) 10W 4" Gravity® G4 LED Fog lights
Gravity®EXTREME OUTPUT AND EFFICIENCY
4" Gravity® LED Fog Lights are powered by KC's patented Gravity® Reflective Diode (GRD) and optical reflectors to deliver an incredible 150 lx @10m using only .74A per light. KC's patented Gravity® Reflective Diode system aims LEDs into precision reflectors, capturing all light to project it forward.
STREET LEGAL FOG BEAM PATTERN AND ADVANTAGES
Fog Beam- Provides a low, wide angle light pattern that increases short-range visibility. Amber LEDs for ideal lighting in low visibility conditions like dust, fog, snow and rain.
ADJUSTABLE MOUNTING FOR ACCURACY AND PRECISION
KC's Innovative adjustable mount allows users to easily adjust the aiming of lights horizontally for an optimum and consistent beam angle. KC's OE mounting system bolts directly up to OE bumper locations on 07-17 Jeep JKs.
STRENGTH & DURABILITY
Constructed from an IP68 rated lightweight Magnesium housing and shatter proof polycarbonate lens creating a fully self contained LED light housing.