KC HiLiTES 91336/91339 Gravity Pro6 LED Light Bar Kit for 18-23 Jeep Wrangler JL and Gladiator JT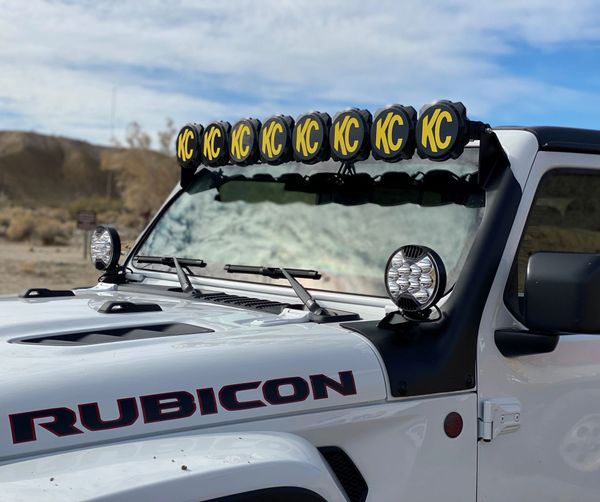 KC HiLiTES 91336/91339 Gravity Pro6 LED Light Bar Kit for 18-23 Jeep Wrangler JL and Gladiator JT
KC HiLiTES 91336/91339 Gravity Pro6 LED Light Bar Kit for 18-23 Jeep Wrangler JL and Gladiator JT
-Select Jeep Model-
The Gravity Pro6 LED Light Bar provides a custom fit for your Jeep Wrangler JL and Gladiator JT. Lighting up those dark trails with a powerful 18,400 lumens with a beam distance of 1,637 meters. This system is completely unique with its Infinity Ring system versatility. Plus it looks awesome and gives your Jeep an aggressive look. Go further into the night with confidence. Sold as a complete system.
Please Note: Lights that mount to the base of the windshield brackets are sold separate and brackets ship in a black color.
Note: Does Not Fit Wrangler 4xe Hybrid Electric Models

Gravity Pro6 Specifications & Performance:
Dimensions - 50" 8-Light = H - 6.06" x D - 3.33" x W - 51.625" (Straight) / 51.086" (Curved)
Reflector Optics - Combo of Driving & Wide-40 Beam pattern lights for optimal lighting balance
Infinity Ring System - Modular, Expandable & Adjustable for Straight or Curved Orientations
Raw Lumens - 18,400 lm
Lux @ 10 Meters - 6,700 lx
Candela - 670,000 cd
Beam Distance (Meters) - 1,637m
Wattage - 160W
Amp Draw: 5.0-14.67A
LED Source - Cree XPL HD LED
LED Color - 5000K
Voltage - 9-32V
IP Rating - IP68
Premium Reflective Diode Technology: Each Gravity LED Pro6 light is powered by KC's G6 LED optical insert, featuring patented Gravity Reflective Diode (GRD) technology. This assures that actual emitted light output from each LED is being maximized in creating powerful, usable light for everyday use and off road use. Unlike traditional forward facing reflector designs commonly found in LED lights today, KC GRD technology strategically positions LEDs inside the reflector so that all light output is being carefully directed and aimed to deliver usable light. Providing highly targeted light distribution, unparalleled clarity, performance, and beam shape.
Unique Infinity Ring System: Leading the way as an industry first, the Pro6 allows you to take full control of your specific lighting needs. Pro6 LED light bars feature a patented Infinity Ring system utilizing individual rings to securely link individual 6" Pro6 LED lights together to form a rigid, powerful LED light bar system. The hinge and bolt design in every ring allows for endless possibilities to suit your lighting needs. This means the seamless transition between straight, radius, or hybrid radius light bar orientations to angle lights exactly how you see fit.
Ultimate Reflector Optics: These lights are specifically configured using a combination of SAE/ECE Driving and Wide-40 G6 LED optical inserts. The combination of different reflector optics provides a broader range of visibility and homogenous light beam shape, for more usable lighting coverage. Driving Beam lights provide powerful forward distance and equal beam distribution width, while the Wide-40 beam offers a wider area of coverage, increasing side to side peripheral visibility. This not only results in incredible light output distance but also evenly balanced light distribution and beam shape that translates to light output that you can actually use for all of your Overlanding journeys.
INSTALLATION NOTES
Installation Difficulty:
Level 2
Intermediate
Installation Time:
1-2 hours
PARTS INCLUDED
Gravity Pro6 LED Light Bar (1)
Light Covers (8)
Windshield Mount Brackets (2)
Installation Hardware
Wiring Harness with Switch
WARRANTY
23 Year Limited Warranty