XK GLOW LED SMOKED LENS TAILLIGHTS KIT FOR JEEP WRANGLER GLADIATOR JL/JT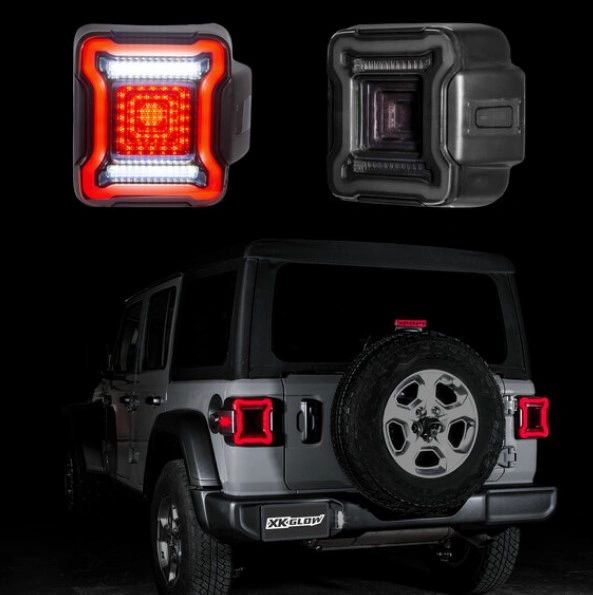 XK GLOW LED SMOKED LENS TAILLIGHTS KIT FOR JEEP WRANGLER GLADIATOR JL/JT
XK GLOW LED SMOKED LENS TAIL LIGHT KIT FOR JEEP WRANGLER GLADIATOR JL/JT WITH BRAKE TURN REVERSE
Key Features:

Dark smoked polycarbonate lens.
Easy plug and play installation.
Kit sold in a pair.
DOT Compliant.
Designed for halogen taillight upgrade. 

May not be compatible with LED taillight with Blind Spot Monitor module.

may show tail light error code on dash controls
If your vehicle is equipped with factory LED Headlights and/or Tail lights the following issue could result:

1. Lamp Failure warning on dash accompanied by a hyper flash of the signal indicator on the dash only. (Exterior lamps will perform normally)
2. If equipped with a blind spot detection system you will receive a "blind spot alert unavailable" notification on your dash as currently we do not offer support for the blind spot detection system with our product.
These tail lights are a simple way to get rid of your OEM tail lights, and achieve that custom look you are searching for. The smoked lens help get rid of those red eye sores hanging off the back of your Jeep. Even with the darker lens, these LED lights are brighter than stock. Making them easier to see on and off the road, as well as increasing visibility while in reverse. The running light provides a solid "O" (wrangler) "C" Gladiator shaped design, giving your Jeep style driving down the road during the day or night.
Tech Specs
Light power consumption per function: Running (1.8W), Brake/Turn (26.1W), Reverse (19W)
Fits Jeep Wrangler JL Jeep Gladiator JT
 Mounting Instructions Here