LUND BULL BAR W/ LED LIGHTS FORD 27121206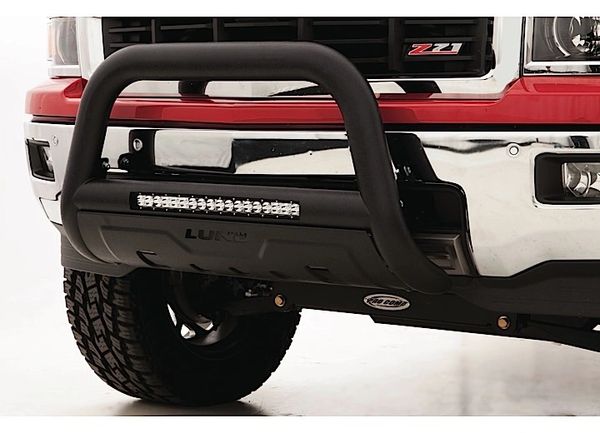 LUND BULL BAR W/ LED LIGHTS FORD 27121206
LUND BULL BAR W/ LED LIGHTS FORD 27121206
Description
 Constructed from 304 stainless steel
 3.5"oval steel tubing for increased strength
 Available in black powder-coat or polished stainless steel finishes
 Easy, no-drilling installation
 Includes integrated 20" LED light bar
 Emits 54-watt flood beam pattern, 3K lumens
 Complete with steel skid plate
 Complete with lighting wiring harness
Lund Bull Bar with built in 20" led lights looks hot and helps light up your drive on or off the road. The struggle is real sometimes when it comes to accessorizing your vehicle. Trying to pick out the best add-on's for your truck or SUV without going over the top, yet still having it look sweet can be difficult. Well worry no more, as Lund has you covered with the Lund LED bull bar. Being able to add front end protection and having your ride look wicked never happened so easily!

Mounting light bars can be hard to figure out at times, with this LED bull bar it is designed right into the tubing of the 3.5" thick steel. The 20" LED bar has a 54 watt flood beam pattern, putting out over 3K lumens. So will you not only get additional protection, you will be provided added light while you are driving back-roads at night. Choose from either a textured black powder-coat finish or a stunning polished stainless steel to coat your newest addition to your truck. Including a steel skid plate, you don't have to worry about dents and dings either!

Installation can be completed from the comfort of your own home on the Lund LED bull bar. No drilling is required and the light bar can be wired directly into your factory light wiring. Let the stress subside as you click the buy now button for this head-turning product!
View Available Part Numbers For This Product Line
---
Fits
(2004) Ford F150 New Body
2005-2017 Ford F150
2010-2014 Ford Raptor
2017-2018 Ford Raptor