MFC Offroad 2 Inch Lift Kit 2014-2019 Jeep Cherokee KL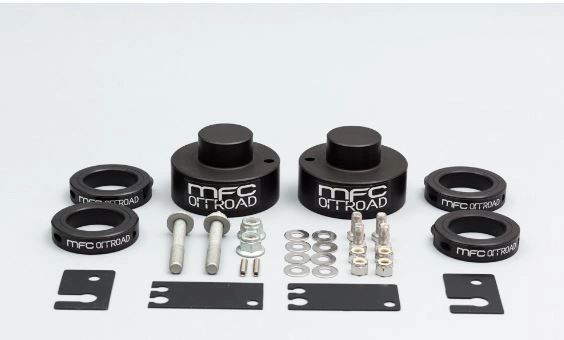 MFC Offroad 2 Inch Lift Kit 2014-2019 Jeep Cherokee KL
MFC Offroad 2 Inch Lift Kit 2014-2019 Jeep Cherokee KL
MFC Lift Kit: Engineered Specifically for the 2014+ Jeep Cherokee

Our kit is made of top quality solid billet 6061-T6 aluminum parts and lifts your 2014 - 2019 Jeep Cherokee KL an additional 2 inches over factory giving you 10.7 inches of clearance on stock tires if you drive a Trailhawk, 10.2 inches of clearance for an AD2 with stock tires and 9.1 for the AD1. Our suspension lift kit will allow you to run up to a 32" tire on your Cherokee with minor additional modifications for additional ground clearance and capability. Several of our customers have run most difficult rated trails their KL with our kit and 32 inch tires.
With careful consideration in mind relative to body geometry, safety, CV angles and drive-line components, this lift kit improves looks and performance FOR ALL TRIM LEVELS OF THE KL PLATFORM.
Also included with our lift kit are brake-line relocation brackets which eliminate the possibility of your break-lines coming loose, rubbing on your tires or driveline and creating a dangerous situation. 
MFC Offroad guarantees all aspects of the MFC Lift as to never fail, break, or crush under the weight of the vehicle, under normal use both on and off road.
The MFC Lift Kit fits Cherokee KL all trims:
- 2014 -2019 Jeep Cherokee FWD
- 2014 -2019 Jeep Cherokee Sport AD1/AD2
- 2014 -2019 Jeep Cherokee Latitude AD1/AD2
- 2014 -2019 Jeep Cherokee Limited AD1/AD2
- 2014 -2019 Jeep Cherokee Trailhawk
Why lift your KL with our kit?
With this lift, you are capable of fitting 32" BFG 255/75R17 KO Mud-terrian tires with no wheel hub spacer. This will net you a full 3.25" of ground clearance over a factory Trailhawk. This is the only lift that retains all aspects from the factory. MFC's lift retains true clocking position of rear coil springs, reinforces the factory strut when elongated to prevent any lateral forces and NO DRILLING of any suspension parts to make it fit! 100% bolt on! On top of this, we have gone the extra mile to ensure you stay safe while driving! When dropping your front knuckle you run the risk of changing the positioning of the brake line and ABS/Speed sensor wiring. When the knuckle is dropped these lines become very tight in the factory brackets. Since the brake line has little play after the drop, it can pop out unexpectedly and rub against your tire. With the MFC relocation brackets, your lines stay true to the factory positioning. We are the only ones who do this, and we do not recommend using zip ties or any other unsecure method as a solution.
To fit a 32" tire, minor trimming of plastic, pinch weld and depending on trim level a wheel centering kit (link to kit) will be necessary. To learn more about fitting a 32" tire view our FAQ.
Complete Kit includes
- 4 adjustable billet aluminum front strut spacers
- 2 billet aluminum rear spring spacers
- Brake line, ABS line and speed sensor line relocation brackets
- Factory bolts and nuts along with set screws for correct clocking of the rear spacer
All orders ship 3 day priority