MFC Offroad 2 Inch Lift Kit 2014-2019 Jeep Cherokee KL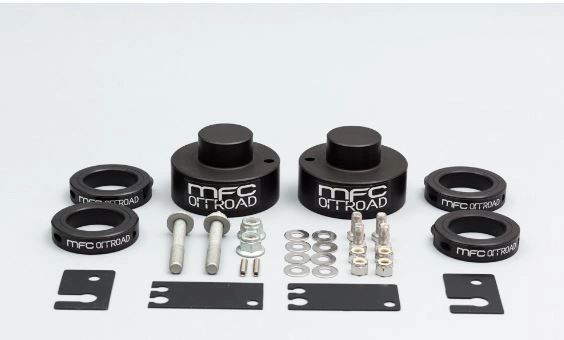 MFC Offroad 2 Inch Lift Kit 2014-2019 Jeep Cherokee KL
MFC Offroad 2 Inch Lift Kit 2014-2019 Jeep Cherokee KL

MFC Lift Kit: Engineered Specifically for the Jeep Cherokee 
ENGINEERED IN THE USA BEARING 

TWO

 PATENTS

NOW INCLUDES THE RWCK (REAR WHEEL CENTERING KIT)

FITS EVERY MAKE, MODEL AND YEAR KL CHEROKEE

Lifts your 2014-2021 Cherokee by 2 inches over factory on all four corners
Provides 10.7 inches of clearance on stock tires on a Trailhawk
10.2 inches of clearance for an AD2 with stock tires
9.1 inches of clearance for the AD1 with stock tires
Our lift kit allows fitment of up to 32 inch tires on your Cherokee with trimming
Made of solid billet 

USA MADE

 6061-T6 aluminum parts
Includes brake-line relocation brackets which are necessary
With careful consideration in mind relative to body geometry, safety, CV angles and drive-line components, this lift kit improves looks and performance.
Several of our customers have run the most difficult rated trails with their KL, our kit and 32 inch tires give your Jeep Cherokee off-road capability that's comparable or equal to many class-leading off-road vehicles by increasing ground clearance, approach, break-over and departure angles.
The included brake-line relocation brackets eliminate the possibility of your break-lines coming loose, rubbing on your tires or driveline and creating a dangerous situation. 
MFC Offroad guarantees all aspects of the MFC Lift as to never fail, break, or crush under the weight of the vehicle, under normal use both on and off road.
Complete Kit includes
- 4 adjustable billet aluminum front strut spacers
- 2 billet aluminum rear spring spacers
- Brake line, ABS line and speed sensor line relocation brackets
- Factory bolts and nuts along with set screws for correct clocking of the rear spacer
Front Kit includes
- 4 adjustable billet aluminum front strut spacers
- Brake line, ABS line and speed sensor line relocation brackets
Rear Kit includes
- 2 billet aluminum rear spring spacers
- Factory bolts and nuts along with set screws for correct clocking of the rear spacer
Product Specs
- Machined out of Billet T-6061