Pypes Performance Exhaust SJJ21R High Clearance Cat-Back System in Stainless Steel for 07-18 Jeep Wrangler JK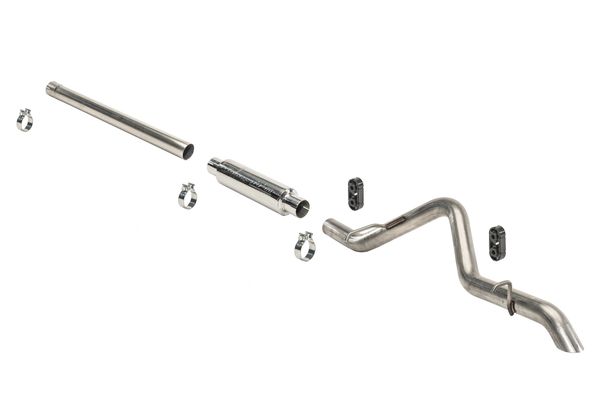 Pypes Performance Exhaust SJJ21R High Clearance Cat-Back System in Stainless Steel for 07-18 Jeep Wrangler JK
Pypes Performance Exhaust
SJJ21R 
High Clearance Cat-Back System in Stainless Steel 
for 07-18 Jeep Wrangler JK
Departure angles. We all think we have that stuff down perfectly, don't we? And yet here we are coming off that obstacle and - smack. Crumpled exhaust pipe. Or worse. Well, with a Pypes Performance High Clearance Cat-Back System, worrying about departure angles can be a thing of the past. At least for your exhaust kit. Pypes carefully crafts this kit to play nice with just about all aftermarket suspension systems, and the exhaust's rear exit sits high and out of the way. Pypes also knows you want a kit that performs as well as it looks, so they made this High Clearance Cat Back system from mandrel bent 304 stainless tubing that is 95 percent straight, so it is not going to wear out, or cause problems when you least expect, while providing better exhaust flow and improving gas mileage. Then, to top off the kit, Pypes includes its case welded M-80 Race Pro muffler that won't rattle and will give you that aggressive, but not overpowering, sound note.
Perfect Clearance: Kit is designed to fit alongside most aftermarket suspension lift systems, helping it avoid damage from off-road driving. High-clearance end sits up and out of the way, meaning one less thing to worry about when coming off that obstacle.
Free Flow Performance: Pypes designed this system with 95% straight tubing which helps exhaust flow and improves gas mileage, while the M-80 muffler is specially tuned to create an aggressive, but not excessive, sound profile.
Stainless Steel Durability: Unlike other aluminum exhaust kits, this one uses mandrel bent 304 stainless steel which resists corrosion and helps extend the lifespan of the exhaust.
INSTALLATION NOTES
Installation Difficulty:
Level 2
Intermediate
Installation Time:
2-4 hours
PARTS INCLUDED
Muffler
Tailpipe
Clamps