RAMPAGE JEEP WRANGLER FLAT STYLE FENDER FLARES 07-18 JK/JKU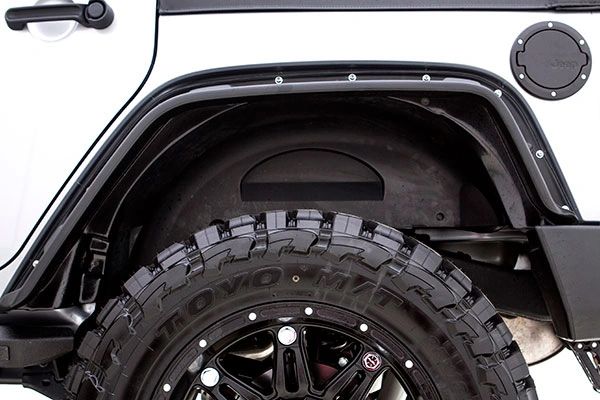 RAMPAGE JEEP WRANGLER FLAT STYLE FENDER FLARES 07-18 JK/JKU
RAMPAGE JEEP WRANGLER FLAT STYLE FENDER FLARES
Jeep Wrangler 07-2018 JK/JKU
Description:
Get extra coverage for the over-sized tires on your Jeep Wrangler with a great looking set of Flat Style Fender Flares from Rampage Products. These stunning fender flares are constructed from a tough, durable Tri-Flex ABS thermoplastic that helps protect it from scratches and scuffs that can happen anywhere. The ABS composite constructions also helps prevent chalking and fading due to harmful uv-rays. The Flat Fender Flares help provide your Jeep Wrangler with an extra 1" in tire coverage while the low-profile design allows you to gain 1.5" of additional clearance over stock flares. They are available in smooth or textured finish to further help it blend flawlessly with other accessories on your Wrangler. 
As if that wasn't good enough it's also available with black powder coat hardware for a murdered out look or stainless steel hardware for that one of a kind shine. Each set of Flat Style Fender Flares come with a set of super bright LED side market lights to replace those old worn out halogen factory lights. Installation is amazingly fast thanks to the simple bolt-on process. They can be installed in your driveway with just the help of a few common hand tools and an hour of time. All of the fender flares are made right here in the USA and come backed by a limited lifetime warranty from Rampage Products. 
Low-profile design allows for superior clearance
1" wider and 1.5" more clearance than stock flares
Gives your Jeep improved protection against rocks and debris
UV-resistant to protect against chalking and fading
Available in smooth black and textured black finishes
Comes with your choice of black powder coat or stainless steel hardware
LED side marker lights are included with every set of flares
Tough and durable Tri-Flex ABS thermoplastic construction
Easy no drill installation process that can be completed in an hour
Made in the USA for a quality part that will last for years
Comes with a limited lifetime warranty from Rampage Products
Give your Jeep Wrangler added protection while gaining crucial clearance for your over-sized tires with a set of Flat Style Fender Flares from Rampage Products. This great product is exactly what your off-road machine needs to take it to the next level. Get your new set today and start enjoying the added protection.
Fits:
2011 JEEP WRANGLER (JK)
CC:

 3778

Liter:

 3.8

SubModel:

 SPORT

CUI:

 231

EngineType:

 V6 ( 3.8 L / 231 )
---
2012-2018 JEEP WRANGLER (JK)
CC:

 3604

Liter:

 3.6

SubModel:

 UNLIMITED RUBICON

CUI:

 220

EngineType:

 V6 ( 3.6 L / 220 )
---
2010 JEEP WRANGLER (JK)
EngineType:

 ALL

SubModel:

 RUBICON
---
2016 JEEP WRANGLER (JK)
EngineType:

 ALL

SubModel:

 SPORT S
---
2007 JEEP WRANGLER (JK)
CC:

 3778

Liter:

 3.8

SubModel:

 UNLIMITED SAHARA

CUI:

 231

EngineType:

 V6 ( 3.8 L / 231 )
---
2012-2017 JEEP WRANGLER (JK)
CC:

 3604

Liter:

 3.6

SubModel:

 RUBICON

CUI:

 220

EngineType:

 V6 ( 3.6 L / 220 )
---
2011 JEEP WRANGLER (JK)
EngineType:

 ALL

SubModel:

 UNLIMITED 70TH ANNIVERSARY
---
2010 JEEP WRANGLER (JK)
EngineType:

 ALL

SubModel:

 SAHARA
---
2008-2009 JEEP WRANGLER (JK)
CC:

 3778

Liter:

 3.8

Aspiration:

 N

SubModel:

 SAHARA

Engine Vin:

 1

CUI:

 231

EngineType:

 V6 ( 3.8 L / 231 )
---
2012-2018 JEEP WRANGLER (JK)
CC:

 3604

Liter:

 3.6

SubModel:

 UNLIMITED SPORT

CUI:

 220

EngineType:

 V6 ( 3.6 L / 220 )
---
2008-2009 JEEP WRANGLER (JK)
CC:

 3778

Liter:

 3.8

Aspiration:

 N

SubModel:

 UNLIMITED SAHARA

Engine Vin:

 1

CUI:

 231

EngineType:

 V6 ( 3.8 L / 231 )
---
2010 JEEP WRANGLER (JK)
EngineType:

 ALL

SubModel:

 UNLIMITED SPORT
---
2011 JEEP WRANGLER (JK)
CC:

 3778

Liter:

 3.8

SubModel:

 SAHARA

CUI:

 231

EngineType:

 V6 ( 3.8 L / 231 )
---
2007 JEEP WRANGLER (JK)
CC:

 3778

Liter:

 3.8

SubModel:

 SAHARA

CUI:

 231

EngineType:

 V6 ( 3.8 L / 231 )
---
2016 JEEP WRANGLER (JK)
EngineType:

 ALL

SubModel:

 75TH ANNIVERSARY
---
2007 JEEP WRANGLER (JK)
EngineType:

 ALL

SubModel:

 UNLIMITED RUBICON
---
2016 JEEP WRANGLER (JK)
EngineType:

 ALL

SubModel:

 UNLIMITED SPORT S
---
2009 JEEP WRANGLER (JK)
EngineType:

 ALL

SubModel:

 X-S
---
2008-2009 JEEP WRANGLER (JK)
CC:

 3778

Liter:

 3.8

Aspiration:

 N

SubModel:

 RUBICON

Engine Vin:

 1

CUI:

 231

EngineType:

 V6 ( 3.8 L / 231 )
---
2007 JEEP WRANGLER (JK)
CC:

 3778

Liter:

 3.8

SubModel:

 RUBICON

CUI:

 231

EngineType:

 V6 ( 3.8 L / 231 )
---
2016 JEEP WRANGLER (JK)
EngineType:

 ALL

SubModel:

 UNLIMITED 75TH ANNIVERSARY
---
2011 JEEP WRANGLER (JK)
CC:

 3778

Liter:

 3.8

SubModel:

 UNLIMITED SAHARA

CUI:

 231

EngineType:

 V6 ( 3.8 L / 231 )
---
2012-2018 JEEP WRANGLER (JK)
CC:

 3604

Liter:

 3.6

SubModel:

 SAHARA

CUI:

 220

EngineType:

 V6 ( 3.6 L / 220 )
---
2011 JEEP WRANGLER (JK)
EngineType:

 ALL

SubModel:

 70TH ANNIVERSARY
---
2012-2018 JEEP WRANGLER (JK)
CC:

 3604

Liter:

 3.6

SubModel:

 SPORT

CUI:

 220

EngineType:

 V6 ( 3.6 L / 220 )
---
2011 JEEP WRANGLER (JK)
CC:

 3778

Liter:

 3.8

SubModel:

 UNLIMITED SPORT

CUI:

 231

EngineType:

 V6 ( 3.8 L / 231 )
---
2008-2009 JEEP WRANGLER (JK)
CC:

 3778

Liter:

 3.8

Aspiration:

 N

SubModel:

 X

Engine Vin:

 1

CUI:

 231

EngineType:

 V6 ( 3.8 L / 231 )
---
2011 JEEP WRANGLER (JK)
CC:

 3778

Liter:

 3.8

SubModel:

 RUBICON

CUI:

 231

EngineType:

 V6 ( 3.8 L / 231 )
---
2018 JEEP WRANGLER (JK)
EngineType:

 ALL

SubModel:

 RUBICON
---
2017 JEEP WRANGLER (JK)
CC:

 3604

Liter:

 3.6

SubModel:

 UNLIMITED SAHARA

CUI:

 220

EngineType:

 V6 ( 3.6 L / 220 )
---
2010 JEEP WRANGLER (JK)
EngineType:

 ALL

SubModel:

 X
---
2017 JEEP WRANGLER (JK)
CC:

 3604

Liter:

 3.6

SubModel:

 UNLIMITED SPORT

CUI:

 220

EngineType:

 V6 ( 3.6 L / 220 )
---
2007 JEEP WRANGLER (JK)
CC:

 3778

Liter:

 3.8

SubModel:

 X

CUI:

 231

EngineType:

 V6 ( 3.8 L / 231 )
---
2008-2009 JEEP WRANGLER (JK)
CC:

 3778

Liter:

 3.8

Aspiration:

 N

SubModel:

 UNLIMITED X

Engine Vin:

 1

CUI:

 231

EngineType:

 V6 ( 3.8 L / 231 )
---
2017 JEEP WRANGLER (JK)
CC:

 3604

Liter:

 3.6

SubModel:

 UNLIMITED RUBICON

CUI:

 220

EngineType:

 V6 ( 3.6 L / 220 )
---
2007 JEEP WRANGLER (JK)
CC:

 3778

Liter:

 3.8

SubModel:

 UNLIMITED X

CUI:

 231

EngineType:

 V6 ( 3.8 L / 231 )
---
2012-2018 JEEP WRANGLER (JK)
CC:

 3604

Liter:

 3.6

SubModel:

 UNLIMITED SAHARA

CUI:

 220

EngineType:

 V6 ( 3.6 L / 220 )
---
2010 JEEP WRANGLER (JK)
EngineType:

 ALL

SubModel:

 UNLIMITED X
---
2010 JEEP WRANGLER (JK)
EngineType:

 ALL

SubModel:

 UNLIMITED RUBICON
---
2010 JEEP WRANGLER (JK)
EngineType:

 ALL

SubModel:

 UNLIMITED SAHARA
---
2010 JEEP WRANGLER (JK)
EngineType:

 ALL

SubModel:

 SPORT
---
2008-2009 JEEP WRANGLER (JK)
CC:

 3778

Liter:

 3.8

Aspiration:

 N

SubModel:

 UNLIMITED RUBICON

Engine Vin:

 1

CUI:

 231

EngineType:

 V6 ( 3.8 L / 231 )
---
2011 JEEP WRANGLER (JK)
CC:

 3778

Liter:

 3.8

SubModel:

 UNLIMITED RUBICON

CUI:

 231

EngineType:

 V6 ( 3.8 L / 231 )