Rough Country 1089 Rear Upper Bar Pin Eliminators for 97-18 Jeep Wrangler TJ & JK 16211-1621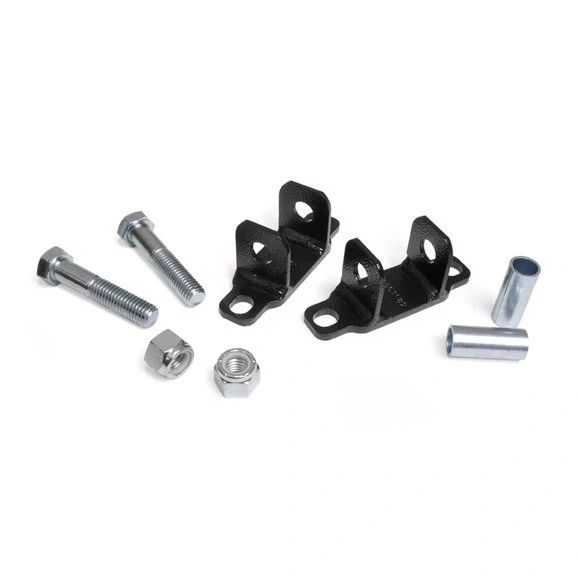 Rough Country 1089 Rear Upper Bar Pin Eliminators for 97-18 Jeep Wrangler TJ & JK 16211-1621
Rough Country 1089 Rear Upper Bar Pin Eliminators for 97-18 Jeep Wrangler TJ & JK 16211-1621

Upgrade and strengthen your Jeep's shocks with the Rough Country Rear Upper Bar Pin Eliminators. This 100% bolt on kit is designed for both the Wrangler TJ and JK. Jeep uses bar pins for the rear upper shock mounts. This design is a common point of suspension failure and can cause unnecessary wear and knocking. Rough Country Bar Pin Eliminators provide a stronger and silent mounting solution.
Eliminate Rattle: Bar pins allow unnecessary shock movement. The bushings slide back and forth on the pins causing knocking and wear. These bar pin eliminators allow the bushings to fill the shock loop eye completely, so they are completely silent.
Bolt-On Installation: For ease of install, the Rough Country Rear Upper Bar Pin Eliminators mounts to your Jeep without cutting, drilling, or other modification. This kit includes two lower bar pin eliminators and installation hardware.
Heavy-Duty Design: This kit eliminates a common point of failure. Factory bar pins tend to rust, rattle, and break. This hit uses a through bolt design and a heavy-duty bracket.
INSTALLATION NOTES
Installation Difficulty:
Level 2
Intermediate
Installation Time:
1-2 hours
PARTS INCLUDED
Rear Upper Bar Pin Eliminator Bracket Pair
Shock Bushing Sleeves
Installation Hardware
WARRANTY
Limited Lifetime Warranty